The Japan International Cooperation Agency (JICA) appoints Mr. Hiroyasu Tonokawa as its new Chief Representative for JICA Saint Lucia Office.
Mr. Tonokawa takes over from Mr. Tsutomu Kobayashi who recently completed his assignment in Saint Lucia. Prior to this assignment Mr. Tonokawa was the Deputy Director General of JICA Yokohama. He began his career with JICA in 1994 in the JOCV Secretariat of JICA Headquarters and has since diversified his work experience in various departments of the organization including the overseas offices in JICA Nepal and JICA Philippines.
Mr. Tonokawa is a graduate of the Waseda Univeristy where he studied Political and Economical Science and has a rich background in JICA's Technical and Grant Aid cooperation programs, specifically those in the education and private sectors.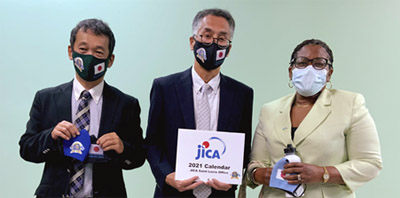 (Left to Right: Tsutomu Kobayashi, Hiroyasu Tonokawa and Adria Rose Sonson)
The Representatives paid a courtesy visit to the Department of External Affairs on 19th April, 2021 to meet with Permanent Secretary Adria Rose Sonson for introduction to the incoming Chief Representative and farewell remarks by the outgoing representative.
Mr. Tonokawa expressed his privilege to lead JICA Saint Lucia as it's new Chief Representative and his commitment in providing continued support to the people of Saint Lucia and its government further towards development and prosperity. He further assured to work towards realizing a more visible relationship and cultural understanding between Saint Lucia and Japan, as well as reassuring JICA's vision of "Leading the world with trust" in Saint Lucia.
ABOUT JICA
The Japan International Cooperation Agency (JICA) is the primary Japanese governmental agency responsible for Japan's bilateral ODA (Official Development Assistance). It is chartered with assisting economic and social growth in developing countries, and the promotion of international cooperation. JICA Saint Lucia supplies technical expertise, training courses, (ODA loans), grants aid and a volunteer scheme (JOCV) to the people of Saint Lucia. The core areas for cooperation in Saint Lucia are Fisheries; Environment; and Disaster Risk Reduction. The JICA Saint Lucia Office also covers Antigua and Barbuda, Barbados, Commonwealth of Dominca, Grenada, Guyana, Saint Vincent & Grenadines, Saint Kitts Nevis, Suriname, and Trinidad & Tobago.
PRESS CONTACT
Erland J. George (Mr.)
Training and Public Relations Officer
JICA Saint Lucia Office
George-Erland@jica.go.jp
(758) 453-6032/33 or 485-1725 Fax: (1-758) 453-6036
Facebook: https://www.facebook.com/jicasaintluciaoffice/ (external link)