Activities in Syria
Major Projects
Outline of Activities
2. Activities of JICA
(3) Expansion of social service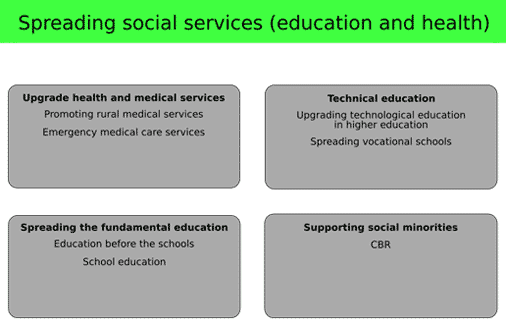 Upgrade health and medical services
We will promote rural medical services and emergency medical care services for the gap between urban and rural areas.
Upgrading reproductive health by Professionals
Supporting the system of emergency medical care services.
Spreading the fundamental education
To upgrade the quality of education, School education has targets on practical courses such as athletics and music including science courses; Education before the schools does on the environment and teachers.
Education before the schools
Japan Overseas Cooperation Volunteers dispatched in Damascus, Homs, Hama, Aleppo, Lattakia, where baby teachers and kindergarten teachers dispatched with periodical local education.
School education
Japan Overseas Cooperation Volunteers of athletics and music dispatched to the UNRWA to support the practical courses.
Introduce the curriculum of science experiments and start the composition of the programs of the practical education for teacher
Technical education
To provide engineers for the society, technological education such as Information Technology, electricity, mechanics, and construction of vocational schools should be expected as follows:
Support for establishing the faculty of microelectronics, Tishreen University
Long term Experts between November, 2003 and November, 2005: Establishing the faculty and planning the future cooperation.
Japan Overseas Cooperation Volunteers and Professionals are planned to dispatch there.
UNRWA, Damascus Training Center
team of Senior Volunteers are promoting technical education, such as piping, wiring system of automobile cars from November, 2003 for two years.
Supporting social minorities
Introducing and promoting CBR which is regarded as an effective way in rural areas in Syria for persons with disabilities.
CBR
Promoting CBR by Experts, Japan Overseas Cooperation Volunteers, local education.
Supporting schools and centers for persons with disabilities by Japan Overseas Cooperation Volunteers.
(4) Environment preservation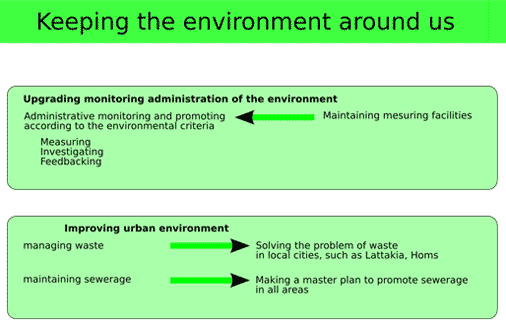 Upgrading monitoring administration of the environment
In all prefectures in Syria, we will support to make a system with which the local authorities can investigate and regulate the environment problems by themselves. In addition, we will promote to upgrade the ability of monitoring the environment with the technical cooperation.
The plan of upgrading the ability of monitoring the environment problems in whole areas.
It start from January, 2005 for three years. We are planning it by consignment of business activities in block.
Local education provide to upgrade the ability of measuring of the environment divisions of all local authorities.
We are planning to dispatch Japan Overseas Cooperation Volunteers of the environment education.
Improving urban environment
Syria which have enormously increasing population and concentration on urban areas has the priority of improving waste administration for urban environment. Consequently, we will provide cooperation to maintain obsolete equipment which need to be updated and to improve waste administration.
The plan of managing waste in the local cities.
We will provide waste collection cars and sanitary landfill equipment in Homs and Lattakia.
In addition, we are planning to construct compost plant which is requested.
Maintaining sewerage
Syria has constructed sewerage only in main cities. The capability and sanitary problems in local cities and rural areas have been more remarkable. From now, we will investigate the fact of sewerage administration and make the cooperation policy.
Planing of maintaining sewerage
investigation by sewerage administration experts
We will make a master plan to promote sewerage in all areas by Development Investigation.