In Service Education and Training for Secondary School Science and Mathematics Teachers Phase II
Type
Area
Period
Tanzania
Organization
Cost (Mill. Yen)
In-country Training
Tanzania Mainland
2013.12 – 2016.11
Ministry of Education and Vocational Training
51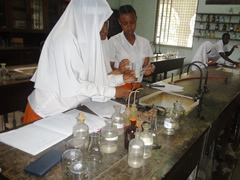 The Ministry of Education and Vocational Training in collaboration with JICA started a joint venture programme of In service Training for Secondary School Science and Mathematics Teachers (INSET phase I) aimed at improving the teaching skills in July 2009. The objective of the project is to capacitate and strengthen science and mathematics teachers in secondary schools to deliver competence based lessons. After three years of implementation of INSET Programme, the system of teacher training has been established which includes implementation framework from National to the school levels. The National and Regional groups of facilitators as well as INSET Centres have been established.
As it was revealed in the joint terminal evaluation of the INSET I, the positive changes on teachers after the training have been seen in classrooms which are: Teachers have shifted from teacher centered to students centered approach, materials for capacity building/training of school inspectors have been developed and knowledge and skills of National Coordination Unit to implement and manage INSET has been improved.
INSET PHASE II
INSET II aims at strengthening the capability of more science and mathematics teachers in secondary schools to deliver high quality competence based lessons, involvement of school inspectors and also linking closely with the Japan Overseas Cooperation Volunteers who are dispatched as Math and Science teachers at secondary schools in Tanzania. At this moment there are about 20 volunteers working as secondary school Math and Science teachers.
We expect that by completion of INSET II the sustainability and the supportive system of the programme at regional and school level will be strengthened.