To have a sustainable growth in the agricultural sector, irrigation development has been of the highest priority among others. Its importance is revealed by the latest sector-specific development program of the Government of Tanzania, the Agricultural Sector Development Program Phase 2 (ASDP2). Water, a precious liquid for all activities of human beings, is vital for farmers in order to attain high productivity, and thus boost and make their livelihoods better.
Although Tanzania is well endowed with plenty of water resources by virtue of the existence of rich natural environment and favorable precipitation, these resources were still underexploited due to inadequate irrigation development, and a sizable portion of farmers had no choice but to rely on rainwater, which is sometimes unstable and unreliable.
To redress this situation, Japan International Cooperation Agency (JICA), in collaboration with the Government of Tanzania, has been grappling with the agricultural development in Tanzania for more than 45 years, starting with the formulation of the "Kilimanjaro Region Integrated Development Plan" in 1974, followed by various cooperation projects including the development of the "Lower Moshi Irrigation Scheme" and "National Irrigation Master Plan of 2002 and 2018".
In 2007, JICA commenced a new technical cooperation project; "Formulation and training on Guideline for irrigation Scheme Development", which was afterwards called "Pre-TANCAID" (2007-2010, TANCAID stands for TANzania CApacity-building for Irrigation Development). This project was succeeded by TANCAID1 (2010-2014) and then by TANCAID2 (2015-2020, ongoing).
A series of these projects aims at establishing and disseminating an effective technical guideline covering the whole lifecycle of irrigation development, that is to say, from formulation (planning and design), implementation (construction), to operation and maintenance (O&M). This guideline is called the "Comprehensive Guideline for Irrigation Scheme Development" (CGL), and it has now been incorporated in the National Irrigation Act 2013 and requires that every irrigation development project, including even those funded by other donors/ development partners, have to follow the process stipulated in the CGL. The enactment of this Act was also supported by the projects. The objective of CGL is to provide a standardized technical foundation of Irrigation development in order to make it more efficient with assured quality. In parallel, the projects have also been capacitating irrigation engineers of the central government (such as those who are working for the National Irrigation Commission (NIRC) of the Ministry of Agriculture), irrigation officers at local governments, and also farmers in Irrigators' Organizations (IOs), so that the CGL can be well embedded in all activities related to irrigation development.
On August 19, 2020, TANCAID2, which is officially called the "Project for Capacity Development for the Promotion of Irrigation Scheme Development under the District Agricultural Development Plans (DADP) Phase 2" is going to be completed at the end of 5 years of the project. To mark its completion, a Joint Coordination Committee (JCC) meeting, chaired by the Director General of NIRC as the project director with participation of other stakeholders, will be held. Moreover, the JCC will also mark the completion of a long-lasting series of technical cooperation projects for 13 years since the kick-off of Pre-TANCAID.
In TANCAID2, CGL has been revised four times to accommodate the challenges encountered during the field practices, and many other relevant technical manuals, such as the one for Efficient and Equitable Water Distribution, Construction Supervision, etc., were drafted/ revised as well. In parallel, experienced Japanese experts provided NIRC engineers (who are main counterparts of the project) with a variety of training programs, such as the Site Management and Farmer Participatory Repair Work.
Along with that, the project has also been supporting the application and practice of CGL and relevant manuals in 44 irrigation schemes nationwide with on-the-job training programs to NIRC engineers, related local government officers, and farmers in IOs. In addition to that, monitoring activities were also conducted multiple times to ensure that those activities take roots in each scheme. Those irrigation schemes were developed through JICA's ODA Loan project to the Government of Tanzania, called "Small Scale Irrigation Development Project" (SSIDP), so as to create a synergy between the technical cooperation (TANCAID2) and the financial assistance for physical infrastructure construction works (SSIDP), and thereby making sure that both projects become more efficient and effective.
During the project period of TANCAID2 for five years, approximately total of 3,000 irrigation engineers and staff, 3,400 local government officers, and 9,300 farmers of IOs were trained and capacitated. It is expected that each party will duly take over the activities assisted by TANCAID2 with respective role and responsibility. Moreover, the application of CGL in any irrigation development, which is required by the Act as mentioned above, is to be announced officially by the Government of Tanzania. All these efforts and actions are meant to ensure the sustainability of the project.
TANCAID2 has been working with Sokoine University of Agriculture (SUA), Arusha Technical College (ATC), and the Ministry of Agriculture Training Institutes (MATIs) so that these institutions may introduce and use CGL in their relevant training courses/ curriculum. This is an attempt to disseminate CGL to potential future engineers and officers in charge of irrigation, and to sustain the project achievements even up to the next generations. JICA believes that Tanzania is going to further expand as well as consolidate the technical cornerstone of irrigation development in Tanzania, which has been established through a series of technical cooperation projects through the support of JICA.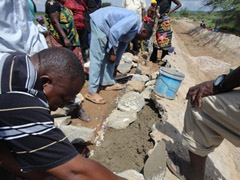 Participatory repair work of an irrigation canal. IO farmers implemented capping works technically supported by district and zone irrigation engineers.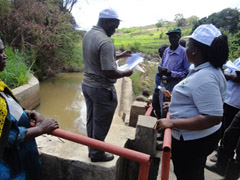 A district irrigation engineer jointly checking performance of the intake gate with IO farmers.
For further information, please contact:
JICA Tanzania Office, P.O. Box 9450, Dar es Salaam,
Tel: 022-211327/30 Fax: 022-2112976
Mr. ASAMI Tatsuya Asami.Tatsuya@jica.go.jp
Ms. Ridda Dally Andrew Andrew-Ridda@jica.go.jp, dallyridda@gmail.com
About JICA (Japan International Cooperation Agency)
A Japanese incorporated administrative agency, in charge of administering Japan's ODA (Official Development Assistance), is one of the world's largest bilateral aid agency supporting socioeconomic development in developing countries in different regions of the world.
In Tanzania, JICA has been a long development partner for more than 50 years in many sectors since 1962.