Dodoma. October 7, 2021. Tanzania needs to develop a conducive market-oriented approach, promoting modern production technologies and policy tools in order to sustain its national self-sufficiency in rice production and become a market leader in the African region.
This was stated by Engineer Anna Mwangamilo, Director of Mechanization and Irrigation from the Ministry of Agriculture (MoA), during the 8th General Meeting of the Coalition for African Rice Development (CARD) held online from October 6 - 7, 2021. Eng. Mwangamilo was the Co-chair of the said meeting selected as the representative from all CARD member countries.
"In order for Tanzania to sustain national self-sufficiency in rice production and contribute to the regional self-sufficiency, and become a market leader in the region, the country has to improve on climate resilience by developing market-oriented rice varieties and promoting other production technologies and policy tools that could mitigate the climatic vagaries. Also, the country needs to enhance regional market competitiveness of locally produced rice over the imported Asian and other regional rice varieties by reducing the costs of production and improving the quality and regulatory mechanisms," she noted.
Co-organized by the Japan International Cooperation Agency (JICA) and the Alliance for a Green Revolution in Africa (AGRA), the General Meeting was attended by focal persons and representatives from 32 CARD member countries, CARD steering committee members, and South-South Cooperation partners.
The main objective of the meeting was to share information on the progress of CARD activities such as the preparation and implementation of the national and regional rice development strategies within the member countries, and to intensively discuss on designing a comprehensive framework for monitoring and evaluation on how industrialization could help advance rice sector in Africa.
Additionally, the participants discussed how CARD and other stakeholders can contribute in addressing issues related to the rice-based food systems in Africa, with reference to the "RICE" approach which is composed of four pillars namely: Resilience, Industrialization, Competitiveness and Empowerment.
The meeting also broadened stakeholders' knowledge about CARD activities ranging from the preparation to implementation of rice development strategies at regional and national levels. Moreover, the meeting succeeded to create consensus of the CARD M&E Framework of the "RICE" Approach at regional and national level, as well as the "Industrial Pillar" of the approach which will address the continent's food security issues.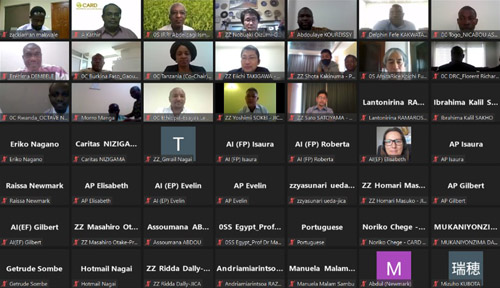 Participants attending online CARD 8th General Meeting including Engineer Anna Mwangamilo-Tanzania CARD Focal Person and Co-chair of the Meeting
CARD members agreed to improve the coordination of developmental activities along the rice value chain in all the member countries by engaging CARD steering committee members and other development partners at country level.
CARD will also provide technical assistance to taskforce members in those countries where the National Rice Development Strategy (NRDS) is not yet prepared and validated.
In countries where NRDS is already validated, CARD will assist the taskforce to identify gaps in funding, and develop bankable project concepts and the execution of which will lead to concrete implementation of the NRDS at country level.
Furthermore, at regional level, CARD will work closely with ECOWAS Rice Observatory (ERO) Secretariat and develop projects, build partnerships, and mobilize resources for ECOWAS' regional action plan. CARD will extend technical assistance to the East African Community (EAC) Secretariat in preparing and validating East African Regional Rice Development Strategy (ERDS). Upon validation, CARD will support East African Rice Platform in developing project concepts for implementing the ERDS.
With additional financial support from the steering committee members and other development partners, CARD will support COMESA, ECCAS and SADC in preparing a roadmap for rice development in their respective regions.
About CARD (Coalition for African Rice Development):
CARD was launched by JICA and AGRA as a consultative group of bilateral donors and regional and international organizations working in collaboration with rice-producing African countries in sub-Sahara Africa (SSA).
CARD's phase one goal was aiming at doubling rice production in SSA; from 14 million tons to 28 in 2008-2018. CARD Phase 2 started in 2019, with a renewed target of further doubling of rice production in SSA, from 28 million to 56 million MT by 2030.
CARD, through JICA, supported the formulation of NRDS phase 1 and 2, which aims at increasing rice production in Tanzania from 0.9 million Metric Ton (MT) to 2.2 million metric ton (MT) in NRDS phase 1 and now is targeting to further double rice production from 2.2 million MT to 4.4 million MT by 2030 in NRDS phase 2. To contribute to the CARD initiative, JICA has assisted in disseminating rice-farming technologies through various projects, i.e. Technical Cooperation in Supporting Service Delivery Systems of Irrigated Agriculture (TANRICE), the Project for Supporting Rice Industry Development in Tanzania (TANRICE2), the Project for Capacity Development for the Promotion of Irrigation Scheme Development under the District Agricultural Development Plans (TANCAID2).
CARD originated from the occasion of the Fourth Tokyo International Conference on African Development (TICAD IV) held in Yokohama, Japan, in May 2008. TICAD objective is "to promote high-level policy dialogue between African leaders and development partners aiming at improving social and economic conditions in Africa mainly through grant aids and technical assistance. Japan has been leading this conference since 1993, co-hosted by United Nations, United Nations Development Programme (UNDP), World Bank and African Union Commission (AUC). The Eighth Tokyo International Conference on African Development (TICAD8) will be held in Tunisia in 2022 In light of the outcomes of TICAD7 held in Yokohama in August 2019, Japan will continue to strongly support African-led development toward TICAD8.
About JICA (Japan International Cooperation Agency):
An incorporated administrative agency in charge of administering Japan's ODA (Official Development Assistance), is one of the world's largest bilateral aid agency supporting socio-economic development in developing countries in different regions of the world.
In Tanzania, JICA has been a long partner of Tanzania for approximately 60 years in many sectors since 1962.
For further information, please contact:
JICA Tanzania Office, P.O. Box 9450, Dar es Salaam,
Tel: 022-211327/30 Fax: 022-2112976
Ms. Yukari Inagaki: Inagaki.Yukari2@jica.go.jp
Ms. Ridda Dally: Andrew-Ridda@jica.go.jp