Experts of JICA project "Capacity development for Municipal Waste Management in Ukraine" conducted two workshops in Kyiv. The first seminar on plastic waste management was conducted on September 2nd, which was mainly designed for the representatives of central authorities - Ministry of Communities and Territories Development, Ministry of Ecology and Natural Resources as well as local authorities - Kyiv, Dnipro, Kharkiv oblast administrations and city councils. The events were conducted in a "hybrid" format, with both online and offline participation.
The Ukrainian counterparts expressed their appreciation for JICA solid waste management project. Mr. Ruslan Strilets, Deputy Minister for digital transformation at the Ministry of Ecology and Natural Resources said: "I saw how the solid waste management system works in Japan. I hope that this experience will be also implemented in Ukraine". The deputy minister also updated the participants on some positive developments in Ukraine. In particular, restriction of circulation of plastic bags has been introduced this year and the draft law 2207-D "On waste management" was prepared for the second reading in the parliament.
Mr. Satoshi Sugimoto, Resident Representative of JICA Ukraine Office has said that not only Ukraine, but other countries as well experience rapid changes in solid waste policies and their implementation. "This is an irreversible trend and I hope this issue will be efficiently tackled in Ukraine", Mr. Sugimoto said.
During the seminar, JICA experts Mr. Shungo Soeda and Mr. Tomoyuki Hosono gave presentations on household plastic waste treatment in Japan. According to the presentation, only 9% of plastic waste is being recycled in the world. If current production and waste management trends continue, roughly 12,000 Mt of plastic waste will be in landfills or the natural environment by 2050.
The topic of plastic waste treatment was further developed by Ms. Olena Koltyk, Director of Department of Waste Management and Ecological Safety at the Ministry of Ecology and Natural Resources. In her presentation, Ms. Koltyk explained the peculiarities of plastic waste treatment in Ukraine. According to her, the Ministry is now at the final stage of preparation for implementing the restriction of plastic bags usage. "Such step will not solve the problem of development of solid waste treatment infrastructure, but will definitely reduce plastic contamination", Ms. Koltyk said.
Mr. Andriy Vedmid, Director of the Department of Public Utilities and Public Services, Ministry of Communities and Territories Development, gave an overview of waste situation in Ukraine. He noticed that household solid waste makes only 2.5% of all waste generated in Ukraine, while the biggest share is industrial waste. According to him, the existing system of solid waste does not meet the populations' needs and becomes dangerous for the environment. Also, the lack of efficient recycling infrastructure leads to economic loss, as lots of resource-rich waste is being neglected.
On the next day, another seminar was conducted for Kyiv city and oblast authorities to discuss the status of regional waste management plan in Kyiv city and oblast.
JICA is now planning the next round of seminars with preliminary schedule in early 2022.
You can find JICA's report on "Information Collection and Verification Survey for Municipal Solid Waste Management in Ukraine" from the link here:
https://libopac.jica.go.jp/images/report/12319893.pdf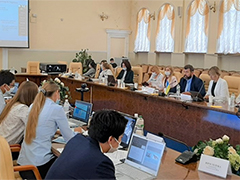 Plastic waste management seminar on 2 September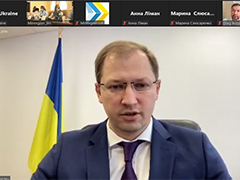 Mr. Ruslan Strilets, Deputy Minister for digital transformation, the Ministry of Ecology and Natural Resources

Mr. Andriy Vedmid, Director of the Department of Public Utilities and Public Services, Ministry of Communities and Territories Development

Ms. Olena Koltyk, Director of Department of Waste Mmanagement and Ecological Safety, Ministry of Ecology and Natural Resources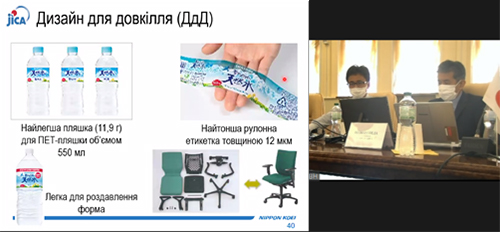 Mr. Soeda and Mr. Hosono, JICA Experts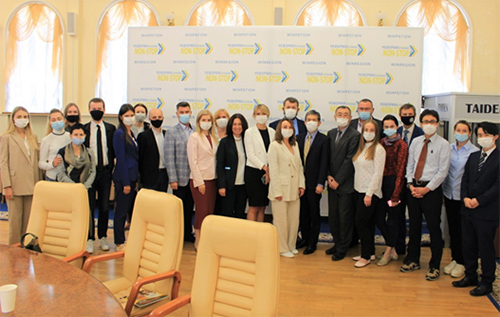 Group photo