On December 20th, JICA Ukraine Office team, led by Mr. Sugimoto, Resident Representative, visited the "Republican Hospital" and "Mother and Child Institute (MCI)" in Chisinau, to follow up on the operational status of neonatal ventilators that JICA has donated this year.
During the visits, the team had opportunities to make observations of the equipment in use and had discussions regarding the use of the donated equipment with hospital managements, doctors, and biomedical engineers at the two hospitals.
It was a great pleasure for us to know that the hospitals really appreciate the neonatal ventilators. Some doctors who utilize the equipment at ICU explained the great advantages of the equipment for their work and other colleagues including the directors kindly expressed their gratitude for the donation. Furthermore, we have confirmed that the ventilators have already been utilized to treat some babies from Ukrainian refugee families.
The donation of three neonatal ventilators is part of the first batch of JICA's emergency assistance and we regard this as the beginning of our support in the health sector after the inflow of Ukrainian refugees to Moldova. JICA will provide Moldovan hospitals with a set of medical equipment in 2023 through the program for strengthening the medical system, JICA's grant aid program whose budget is up to 1 billion yen.
JICA's assistance aims at strengthening the health system in Moldova, which has been significantly affected by the refugee emergency in the region, caused by the armed conflict in neighboring Ukraine. We appreciate Moldovan people's generous and warm hospitality and would like to keep working together with Moldovan colleagues for achieving the common goal.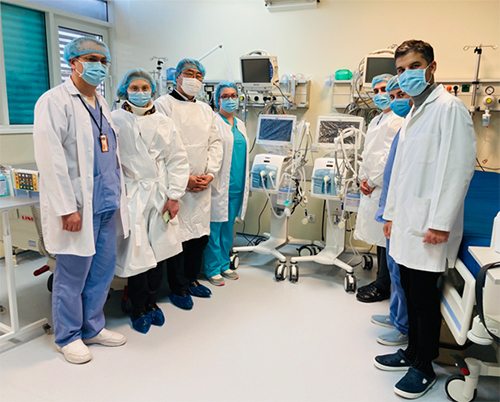 Two donated neonatal ventilators at the Republican Hospital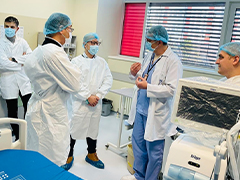 Discussing the equipment with doctors at the Republican Hospital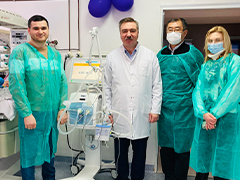 With the director and a biomedical engineer at MCI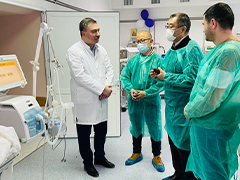 A neonatal ventilator donated to MCI