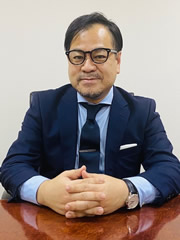 Welcome to the Homepage of JICA Uzbekistan Office!
Uzbekistan is now in the transitional period to promote open market system, such as free market economy, free exchange rate, promotion of foreign direct investment, friendship diplomacy with neighboring countries under the leadership of Mr. Mirziyoyev, the President of Uzbekistan inaugurated last year.
The result of these efforts already can be seen in the World Bank Doing Business Report 2018. Uzbekistan raised its ranking from the 87th in 2017 to the 74th in 2018 and the nation was within top 10 in the scope of improvement.
JICA's cooperation to Uzbekistan started in 1993, after the country's independence. JICA Uzbekistan Office was established in 1999 as the first JICA overseas office in the CIS (Commonwealth of Independent States).
Today, JICA inUzbekistan mainly focuses on the following three issues; (1) improvement of economic infrastructure (especially transportation and energy sectors), (2) vitalization of private sector through human resources development, (3) agricultural reform and rural development, and health sector reform. We apply a comprehensive approach covering both infrastructure development and capacity development of human resources. Another distinction of our cooperation is its variety. That is, we tackle the above mentioned challenges combining different schemes, such as ODA loans, technical cooperation (e.g. Uzbekistan-Japan center for human development), volunteers (e.g. Japan Overseas Cooperation Volunteers), public-private partnership, grant aid (e.g. human resource development scholarships), etc.
JICA Uzbekistan Office also covers Caucasus region. Starting from 2008, the office has been dealing with JICA's operation in Armenia, Azerbaijan and Georgia. Since then, the office has been playing the role of a regional office.
After establishment of JICA Georgia Office in May, 2017, JICA strengthened the operation system in Caucasus (Georgia, Armenia and Azerbaijan) and Uzbekistan. Although there are common issues and challenges among these states, situations in each country are different. Hence, we try to identify development challenges from local people's point of view and explore solutions together with them to make our cooperation fit to the real needs on the ground.
I sincerely hope that this Homepage can be a useful tool to grasp our activities in Uzbekistan to all visitors.
December, 2017
Katsutoshi FUSHIMI
Chief Representative
JICA Uzbekistan Office