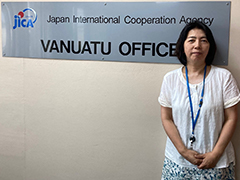 Vanuatu is a young country that has become independent in July 1980 after the end of condominium by France and the UK which lasted for nearly 80 years. This country consists of over 80 archipelagos and approximately 300,000 people which accounts for 80% of the population live in the remote islands where a lot of Melanesian culture such as ancestral worship, ritual ceremonies by clans and creation myth remained.
The brief history of Vanuatu shows that Spanish explorers who believed in the existence of "Southern continent" at the beginning of the 17th century appeared in the archipelago and made a chance to gradually expand Christianity in Vanuatu. Later, in the mid-18th century, French and British explorers arrived in the archipelago one after another. Based on the background of colonialism, they gradually started governing the islands at the beginning of the 20th century France and the United Kingdom started ruling the country together. For that reason, there are still some English-medium schools and French-medium schools and Bislama (Pidgin English), English and French are all spoken as official languages.
JICA has opened an office in Vanuatu in 1988. Since then, JICA has been providing the technical assistance such as dispatching JICA Volunteers and technical cooperation projects, and several financial assistance including development of Lapetasi port and Vila Central Hospital which are highly valued from people of Vanuatu.
However, due to the influence of the COVID-19, 23 Japanese Volunteers who were dispatched to Vanuatu at that time were returned to Japan in March 2020. Since then, dispatching Volunteers and most of the on-going projects had been stopped more than 1 years.
In such a circumstances, first 3 experts of J-PRISM project had visited Vanuatu after 1 and half years in October,2021. And we are also preparing to re-dispatch Japanese Volunteers as early as possible.
Vanuatu is a completely corona-free country without the need to wear a mask so far, but since foreign tourists do not come, the negative impact is gradually beginning to appear, especially in the tourism industry.
We cannot see the prospect of the end of this pandemic yet, and sometimes I feel frustrated facing this difficulty.
But because of such a situation, I would like to tighten up my mind and directly face with the people of Vanuatu. I also would like to actively promote what we can do as one of the JICA's overseas office with the prospect of With / Post Corona.
I sincerely hope our various activities would be a great help for the development of Vanuatu.
Ms. UEMURA Rika
Resident Representative