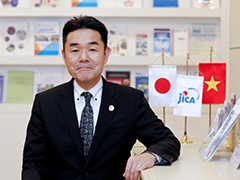 My name is KONAKA Tetsuo and I am taking office as the Chief Representative of JICA's Vietnam Office as of March 2018. Previously, I used to work at JICA Offices in India and China. I am very happy to work in Vietnam - one of the most important partners of JICA in the ASEAN region.
Prof. FURUTA Motoo, President of the Vietnam-Japan University which is supported by JICA's technical cooperation project, recently wrote a book titled "Basic knowledge about Vietnam". In the book, he wrote: "Some researchers portrayed the Vietnamese people's character as 'Water'. They easily adapt to sudden changes in circumstances. You will see different vehicles trying to find a way for themselves in the middle of crowded motorcycle and automobile lanes. But even in such condition, still the traffic flows smoothly in its own way. So it makes sense to use the word 'water' for the traffic culture in major cities in Vietnam." However, as a newcomer to Vietnam, I will probably need more time to be able to see the thrilling traffic flow here as 'water'.
While managing to achieve steady economic growth with a real GDP growth rate of 6.8% in 2017, and 7.38% for the January - March period in 2018, Vietnam still faces many challenges such as: an increasing gap between the rich and the poor, environmental issues, the middle income trap, etc.
In our efforts to assist Vietnam to tackle these new challenges, Japan's Official Development Assistance (ODA) focuses on three priority areas: (1) Promoting growth and competitiveness; (2) Response to Fragility; and (3) Good governance. I would like to optimize the effectiveness of these three key priority areas through the organic linkage of the following cooperation schemes: Loans, Grant Aid and Technical Cooperation (including Volunteer Programs).
In addition, with my experience gained during work at the Private Sector Partnership and Finance Department at JICA's Headquarters before coming to Vietnam, and in line with the Vietnamese Government's strict policy of controlling public debt, I look forward to promoting such further programs as Private Sector Investment Finance, Small and Medium-sized Enterprises (SME) support and other work through mobilizing the private sector, including Japanese enterprises.
In terms of operational points of view, reflecting the fact that the Vietnamese political and economic situation seems to be in a transition period, I will pay due attention to strengthening data collection and information analysis, speedy implementation in handling procedures, and close and strict negotiations among involved stakeholders to ensure proper and smooth progress in our endeavors.
Moreover, I would like to visit as many of the 63 provinces/cities of Vietnam as possible to discuss and seek ways to support them under local conditions. Therefore, I intend to work closely not only with the central government of Vietnam but also with many partners, including enterprises, municipal governments, non-governmental organizations and international organizations.
In 2017, JICA set its new vision of "Leading the world with trust". The year 2018 is the 45th Anniversary of the establishment of diplomatic relations between Vietnam and Japan, and I look forward to your continued support to further strengthen my predecessors' efforts and accomplishments in the process of building "trust" between the two countries and to make greater contributions to the development of Vietnam.
Konaka Tetsuo
Chief Representative, JICA Vietnam Office