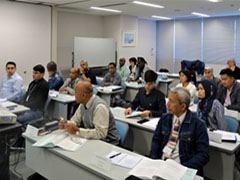 Lecture in progress
One of the fields in which JICA Yokohama provides training is "Capacity Development for Port Facility Security." This year marks the fifteenth session of this annual training program.
This training program was conducted with a primary focus on the ASEAN region and nearby countries through 2015, after which it expanded into other regions that had ratified the IMO(*1)'s SOLAS Convention(*2). However, there are certain limitations on participation, and this year's session saw 16 trainees participate from nine countries. The session was conducted over a period of three weeks from November 25 to December 13, 2019.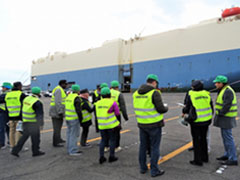 Tour of the Hiroshima Port Automobile Export Terminal
Port facility security is currently being improved by countries throughout the world. In the wake of the terrorist attacks of September 11, 2001, the appendix Chapter XI-2 to the SOLAS Convention was revised (the Revised SOLAS Convention, in which Chapter XI-2 is referred to as the "ISPS Code(*3)") and adopted, and port facility security has been carried out in accordance with those rules since they came into effect in July 1, 2004.
This JICA training program was launched in 2005, a year after the ISPS Code came into effect, and continues to this day.
This training program has the following goals, and participants are required to fulfill them to a certain degree.
Program Objectives (Outcomes that are expected to be achieved by the end of this training and due to it; i.e., direct benefits and changes to the participants): To understand the importance of port facility security, and to share the lessons and challenges of port facility security policy and measures between the participants' countries.
Expected Module (Individual units of the curriculum) Output and Contents:
1. To understand international conventions on port facility security, and to learn about global trends in security-related policy in the transport sector and especially ports.
2. To learn about and acquire skills pertaining to methods of implementing port facility security policies.
3. To learn about and acquire skills pertaining to methods of evaluating port facility security policies.
4. To acquire the knowledge needed to cultivate personnel who will work with port facility security policies.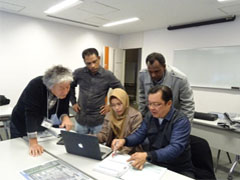 Port facility security practical training
Once again, in this session, all 16 trainees achieved the above expected module output and contents.
This training program includes, in its first half, lectures on basic port facility security knowledge overall and the current state of port facility security in Japan; tours of Japanese ports to see actual port facility security measures and facilities in practice in the middle section; and in the latter half, port facility security evaluation and planning work that requires practical training, as well as the planning and execution of port facility security, training, and drills and exercises and practicums. This program structure aims to improve training effectiveness.
There is no final form of the content of this training program. Aspects of the program that can be improved or reformed are pointed out after every iteration. Those responsible for the program must work continuously to ensure that they implement the best training possible.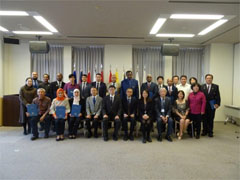 Group photo
*1 IMO.: International Maritime Organization
*2 SOLAS Convention: International Convention for the Safety of Life at Sea
*3 ISPS Code: International Ship and Port Facility Security Code
(This article was written with the cooperation of: The Overseas Coastal Area Development Institute of Japan.)
Contribution to the advancement of The Sustainable Development Goals (SDGs)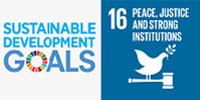 The Sustainable Development Goals (SDGs), also known as the Global Goals, were adopted by all United Nations Member States in 2015 as a universal call to action to end poverty, protect the planet and ensure that all people enjoy peace and prosperity by 2030. They consist of 17 individual Goals and more detailed 169 criteria to be achieved.
This training course is expected to contribute to the advancement of Goal 16 "Promote peaceful and inclusive societies for sustainable development, provide access to justice for all and build effective, accountable and inclusive institutions at all levels"