As JICA continues to support the efforts by the people and the Government of Zimbabwe to achieve sustainable development, JICA Zimbabwe is thrilled to welcome 4 new Japan Overseas Cooperation Volunteers (JOCVs) - Ms. Ami Nakashita, Ms. Risa Tomita, Mr. Daiki Shigetani and Mr. Yusuke Takehara.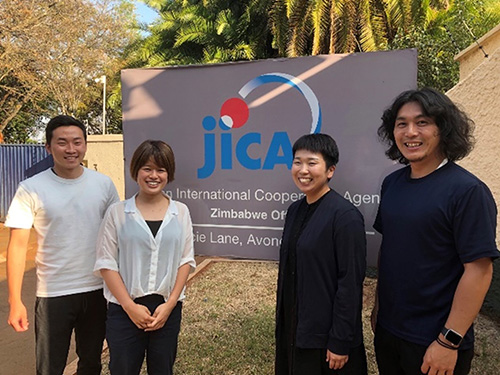 Pictured from left: Daiki Shigetani, Risa Tomita, Ami Nakashita and Yusuke Takehara
The JOCV program in Zimbabwe
The JOCV program which was established in 1965, is one of the technical cooperation schemes of JICA. The program dispatches eager Japanese citizens who wish to participate in assisting developing countries and also have the calls for assistance from their government. . In light of this, the purpose of the program is enhanced mutual understanding where the JOCV and Zimbabwean counterpart learn, plan, think, work and evaluate together to help build the capacity of the host organisation and the community. The priority area in Zimbabwe is education, agriculture, tourism and sports, with volunteers dispatched to institutions including Polytechnics, Agricultural Colleges, Teachers' Colleges and Sporting Associations. To date, JICA has dispatched more than 500 JOCVs to Zimbabwe since 1989, after the signing of exchange notes between the two governments of Japan and Zimbabwe in 1988.
Dispatching the JOCVs
The new JOCVs arrived in the country on the 4th of August 2021 and completed their quarantine as required by the COVID-19 protocols in Zimbabwe. They were dispatched to different Polytechnics and Teachers' Colleges across the country from the 30th of August 2021. They are excited to be able to make a positive impact in their assignment places through the transfer of their skills and knowledge. In addition, they are excited that they will be able to learn as much as they can from the colleagues and students they will be working with and to learn about the Zimbabwean way of life. The volunteers will be in the country for two years.
Meet the new JOCVs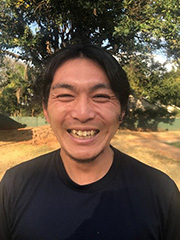 Yusuke Takehara
My name is Yusuke Takehara. I am working as a baseball coach with the Sports and Recreation Committee (SRC), Zimbabwe Baseball Association in Harare.
I started playing baseball when I was seven years old and I kept playing until the age of twenty-two. After that, I became a math teacher and baseball coach at a private high school in Osaka for 12 years.
I am working to spread the knowledge of baseball, for example, sports clubs in elementary schools, coaching youth baseball teams, umpire training and tournament management. I am happy to be in Zimbabwe after waiting for a year because of COVID-19. I will strive to do my best for the two years that I will be in Zimbabwe.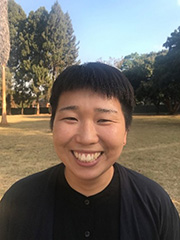 Ami Nakashita
My name is Ami Nakashita from Hiroshima, Japan. I was a junior high school teacher for 5 years, where I was in charge of Physical Education (PE) lessons, had home room classes and was advisor to the volleyball club. I played volleyball for about 10 years and led sports and school festivals.
I am happy to be finally in Zimbabwe, after waiting for 1 year before being dispatched due to the COVID-19 pandemic. I am looking forward to experiencing many things in Zimbabwe, for example, learning the Zimbabwean culture, visiting many places, making friends and teaching P.E.
I am working as a P.E teacher at Morgan Zintec College in Harare. My assignment includes teaching P.E, having sports clubs and giving advisory services. I am excited at the opportunity to impart the fun associated with P.E and to improve the connection between Japan and Zimbabwe. I will strive to do my best to improve the quality of Physical Education in Zimbabwe.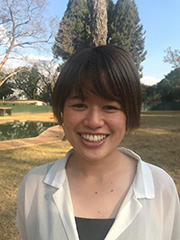 Risa Tomita
I am Risa Tomita from Kyoto, Japan. I finished my JOCV training in March 2020 and my initial plan was to come to Zimbabwe at the end of March 2020. Unfortunately my plans were derailed by the COVID-19 pandemic. I continued to work in Japan while waiting to be dispatched to Zimbabwe. During this time, I found it difficult to keep my motivation since I had to wait for 1 year, 4 months which I felt was long. Not knowing when the wait would be over and when I would be able to go, did not help either.
In Japan, I was a System Engineer for about 4 years. I worked as an Infrastructure Engineer and I used to set Network Devices and Servers that were used in hospitals, Government departments, schools, and various other organisations.
I am be based at Mkoba Teachers College in Gweru as a Computer Technician, where my purpose is setting up, maintaining and managing infrastructure development. I think the delay in coming to Zimbabwe was needed in that this period helped me to sharpen my skills. Now, I look forward to encountering everything that Zimbabwe has to offer. I want to enjoy my stay in Zimbabwe, including any challenges I might face. Someday I want to be able to share with others about Zimbabwe.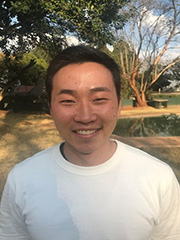 Daiki Shigetani
Hello, my name is Mr. Daiki Shigetani. I am from Osaka prefecture in Japan. I am working as a teacher at Bulawayo Polytechnic, School of Hotel and Tourism.
Before coming to Zimbabwe, I worked in a hotel management company for 5years and I was mainly in charge of the housekeeping department. As the manager, I was responsible for the upkeep of guest room equipment and cleanliness of the hotel. My previous experience will help me work as a teacher in various ways.
I am looking forward to supporting the expansion of Zimbabwe's tourism industry and I want to be a part of sustainable and suitable change for Zimbabwe. In addition to that, I would also like to learn about the Zimbabwean culture deeply and to enjoy my 2 years of assignment as a JOCV.