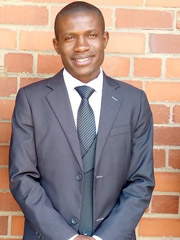 Nevaid Dzimunya
My name is Dzimunya Nevaid Zvikomborero. I am a PhD student within the Laboratory of Rock Mechanics at Hokkaido University. My research is focussing on excavation design and support in jointed shallow room and pillar hard rock mining operations. Currently l am in Zimbabwe attending classes online.
l am a lecturer of Mining Engineering at the University of Zimbabwe. I have been using quite a number of online tools for delivering of lectures and this gave me an easy start to learning and attending online lectures from my University in Japan.
Despite the advantages that studying from home offers, initially my main challenge was the 7-hour time difference between Zimbabwe and Japan. Ever since October 2021 l have been waking up as early as 1:45am so that l can be present for the online classes. At first it was hard but l am used to it now and l can attend every class without any struggles.
My program so far has been very interesting. Apart from the courses that are offered at Hokkaido, I have also attended and completed a course, Arctic Mines online course in Sustainable Mining, managed by Kajaani University of Applied Sciences in Finland. The course is co-ordinated by Hokkaido University and the exposure and the certificate that l obtained from this course will help open up additional career opportunities for me in the future. I am looking forward to much learning and the kind of research that l am pursuing, under the guidance of various professors with international experience and stellar reputations, will go a long way in optimising resource extraction for mines, not only in Zimbabwe but around the globe.
In the long term, my goal is to develop a leading mining consultancy firm, involving Japanese experts in order to bring affordable and sustainable solutions to the Zimbabwean mining sector. Generally, I am passionate about rock mechanics and I believe that my hunger for learning and research combined with my resilient nature will propel me to succeed in my current studies.