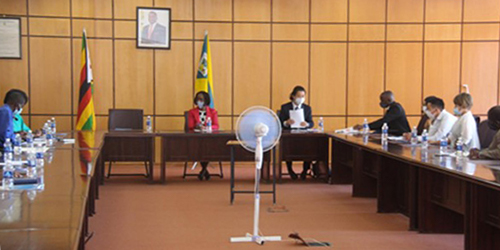 Proceedings during the meeting between JICA and the Midlands State University
After a 14 year hiatus of dispatching Japan Overseas Cooperation Volunteers to Midlands State University (MSU), JICA and the MSU have agreed to revive the technical cooperation that existed between the two organisations. The last time MSU hosted JOCVs was in 2008. Both organisations have pledged to make the technical cooperation stronger than before and widen the avenues of cooperation.
In the past the MSU received volunteers in two sports codes namely volleyball and basketball and after the successfully held meeting on the 30th of March, there was a consensus to engage volunteers in the various fields that include pharmaceuticals, education, languages, information technology, agriculture and student development programmes.
The meeting was attended by the Pro-Vice Chancellor Business, Innovation and Enterprise Development Professor Grace Mugumbate, Executive Deans and Faculty Directors, and JICA Zimbabwe Office JOCV section team.