JOCVs come to Zimbabwe, usually stay for two years and go, but they leave lasting impressions in the hearts of those they encounter. Similarly, the lives of the JOCVs are also forever enriched by the people they meet and the experiences they share during their stay in Zimbabwe. Such is the beauty of the JOCV program, embedded in its underlying principle of reciprocity termed 'mutual understanding.'
Here we took time to find out from past JOCV, Mrs. Terumi Ngandu on her JOCV experience.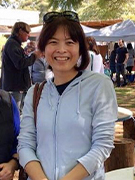 Mrs. Terumi Ngandu, Past JICA Zim JOCV
Briefly describe your volunteer experience in Zimbabwe.
"I was working at Stodart hall Preschool in Mbare for 2 years (July 1997 to July 1999). My mission was to transfer technical skills as a preschool teacher to the local teachers. I taught some songs, crafts, fixed swings, drew mural pictures on the walls and put razor wire around the school."
What is your fondest memory of your time as a JOCV?
"When the children called me 'Teacher Terumi' with big smiles and hugs."
How has your JOCV experience influenced your current work?
"I met my husband who is Zimbabwean and we got married. Now I live and work in Zimbabwe."
Any word of advice to someone who wants to become a JOCV.
"I really encourage people to work together and help each other. Team work makes the dream work."