JICA is currently rolling out the Project for Quality Improvement of Health Service through 5S-KAIZEN-TQM Approach in collaboration with the Ministry of Health and Child Care (MoHCC). The project, which is being implemented in targeted Central and Provincial Hospitals started in May 2022 and will close out in May 2026. The overall goal of the project is quality of health services in targeted hospitals is improved under the supervision of Quality Assurance and Patient Safety (QAPS) Directorate, MoHCC and Provincial Health Executives.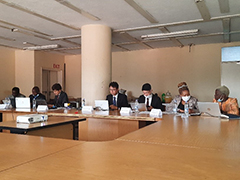 Participants of the JCC meeting listening to the proceedings
In line with the project, the first Joint Coordinating Committee (JCC) meeting was held on the 16th of January 2023 at the MoHCC Board room. In attendance were a Mission from JICA HQ, JICA Experts and officials from JICA, Embassy of Japan and MoHCC. Mr Musiwarwo Chirume, the Director for QAPS who is also the Project Director chaired the JCC meeting. The meeting was also graced by the Acting Permanent Secretary for MoHCC, Dr. Munyaradzi Dobbie who gave some Opening Remarks. In his remarks, Dr. Dobbie said that he is very grateful with the project as it will see many indicators improving, including reduction of patient waiting time, improvement of healthcare workers' attitude and morale and improving the availability of medicines and medical consumables. In support of the project, he ended his remarks by saying "As a country we will give it our all."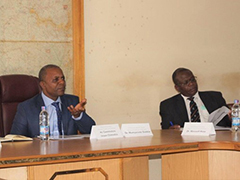 Acting Permanent Secretary, Dr. Munyaradzi Dobbie (left)
giving his opening remarks
Following the remarks by Acting Permanent Secretary, the JICA Mission presented the revised Project Design Matrix (PDM) and Plan of Operation (PO) of the project and the meeting members agreed and approved it.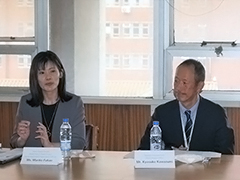 JICA Mission Ms. Mariko Fukao and
JICA Zim Resident Representative, Mr. Kyosuke Kawazumi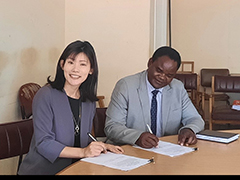 Signing of the Minutes of Meeting
Prior to the meeting, the JICA Mission had discussed the PDM and the PO with QAPS Directorate. Subsequently, the PDM was adjusted based on the activities that were conducted during the first stage of the project (May 2022 - January 2023). The activities included information collection, baseline survey and results sharing, as well as training of 10 health officials in Japan on Quality Improvement through 5S-KAIZEN-TQM Approach.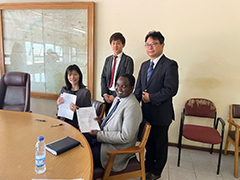 JICA Project Experts, Mr. Noriyuki Miyamoto and
Mr. Shuichi Suzuki (standing)
To close off the meeting, the two parties JICA (JICA Mission) and MoHCC (QAPS Directorate) signed the Minutes of Meeting. Going forward, the second phase of the project will start from May 2023 to the end of the project.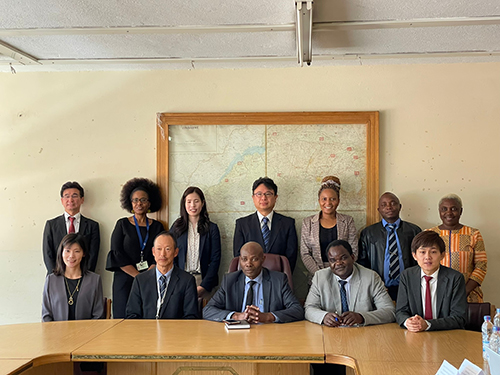 Participants of the JCC meeting