As a part of the "Project on Geospatial Information and Sustainable Land Development in Tirana-Durres Area" in Albania, JICA and the State Authority for Geospatial Information (ASIG) organized a training session for the students of the Faculty of Civil Engineering from the Polytechnic University of Tirana on May 22nd and 23rd. Japanese experts, together with 10 ASIG staff trained in Japan, taught the students how to produce digital topographic mapping.
Computers, map software, screen, color laser printers for digital map printing and software provided by the Project were used in this activity and students learned advanced technologies for data capture, utilization of geospatial information, and techniques for compilation of digital topographic maps.
The training took place in the Head Office of ASIG, and it was strongly encouraged by the participation of the Ambassador of Japan, H.E. Mr. Makoto ITO, the Chief Representative of JICA Balkan Office, Mr. Hideya KOBAYASHI, as well as the Director General of ASIG, Mr. Lorenc ÇALA.
At the end of the event, there was a handing over ceremony of the equipment and software, donated to ASIG. The complete digital topographic maps will be released in April 2020.
The Project aims to build the capacity of ASIG staff and produce the digital topographic map (1:2000) in Tirana and Durres areas (total of 300km2). 20% of map is to be developed by ASIG based on the knowledge and technologies acquired through the Project.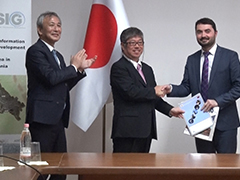 The symbolic handed over ceremony of the equipment and software (300,000) donated to ASIG on behalf of JICA Project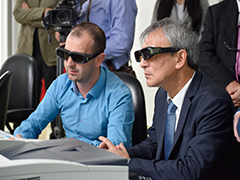 Hands-on the hard/software equipment procured by the Project used for the production of the digital topographic maps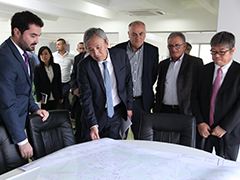 The Ambassador of Japan, H.E. Mr. Makoto ITO, the Chief Representative of JICA Balkan Office, Mr. Hideya KOBAYASHI, the Director General of ASIG, Mr. Lorenc ÇALA presents everyday works in ASIG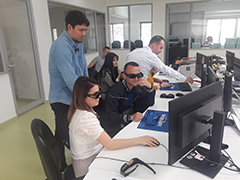 Students of the Polytechnic University of Tirana