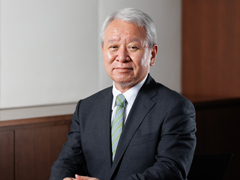 On April 1, I assumed the presidency of the Japan International Cooperation Agency (JICA) as the successor to Dr. KITAOKA Shinichi.
Today's world is beset with multiple crises. Among them, Russia's invasion of Ukraine has left in its wake the whole-scale destruction of Ukraine's land and infrastructure, and resulted in numerous casualties along with an unprecedented number of refugees and internally displaced persons. This war and ensuing humanitarian crisis pose a great challenge to the liberal international order.
Furthermore, the Covid-19 pandemic still has not been resolved and natural disasters thought to be caused by climate change now strike all over the world with seemingly increasing frequency. Likewise, natural disasters caused by crustal movement, as the recent volcanic eruption and tsunami that struck Tonga in January shows, continue to bring serious damage.
In the midst of this pandemic, geopolitical crisis like invasion to Ukraine occurred and has been giving severe impact on the world economy. While this ongoing complex crisis bring a serious threat to all human beings, it severely affects economy and society of developing countries, and disproportionately hit the most vulnerable people.
Under such circumstances, international cooperation is growing in significance more than ever before. As the Development Cooperation Charter of Japan points out, it is vital for Japan to proactively contribute to securing international peace, stability and prosperity through Official Development Assistance (ODA). In view of the Free and Open Indo-Pacific (FOIP), it is also becoming more important for Japan to establish and maintain close relationships with partner countries in upholding the universal values of freedom, democracy, the rule of law, and the freedom of the high seas.
JICA, as the main implementing agency of Japanese ODA, plays a pivotal role in promoting international cooperation as well as the sound development of Japan and the international socio-economy by contributing to the economic and social development, reconstruction, and economic stability of developing countries. To be more specific, JICA holds up its mission of promoting "quality growth" and "human security." Based on this mission, JICA will focus on securing the foundations of economic growth in developing regions, promoting human-centered development to meet basic human needs, promoting the universal values, and securing a peaceful and stable society.
Furthermore, JICA will proactively leverage its global reach to address new challenges. These challenges include building a sustainable and resilient society, strengthening ties between diverse people and developing regions, contributing to the acceptance of foreign human resources as well as multicultural coexistence, and fostering leaders who have strong ties to Japan and who are well-versed in Japan's modernization experience through the JICA Development Studies Program and the JICA Chair (JICA Program for Japanese Studies).
Through these efforts, JICA will comprehensively contribute to the achievement of the Sustainable Development Goals (SDGs) by 2030.
As president, I fully intend to carry forward JICA's longstanding tradition of working hand in hand with people of partner countries as we strive to realize our vision of "Leading the world with trust." I seek your continued cooperation as we work towards this goal.
April 1, 2022
TANAKA Akihiko
President
Japan International Cooperation Agency
The President's Activities
Speech Transcripts
---