JICA's cooperation with Africa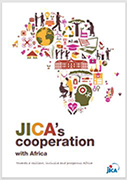 JICA at a Glance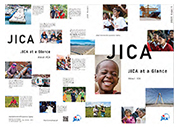 JICA Development Studies Program
JICA Chair (JICA Program for Japanese Studies)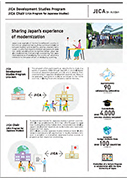 JICA's Initiative for Global Health and Medicine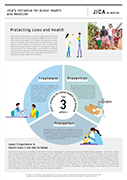 JICA Profile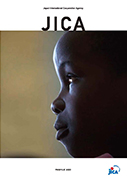 (English)
(French)
(Spanish)
(Arabic)
Japan Brand ODA
Unique know-how, experience and technologies originating in Japan and cultivated at international cooperation sites around the world are proving useful in the field in many developing countries. JICA is disseminating these methods and program models that are effective for solving problems to the rest of the world as the Japan Brand of international cooperation and promoting its use.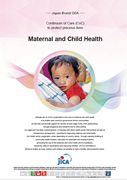 JICA Volunteer Program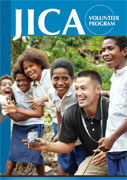 Revisiting Human Security in Today's Global Context - JICA's Activities -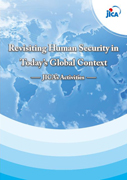 Human security against emerging challenges of today
Three principal strategies for human security
Peace and order
Poverty, inequality, and aging societies
Climate change and technological advancements
History of Friendship and Cooperation: The 50th Anniversary of Japan-Singapore Diplomatic Relations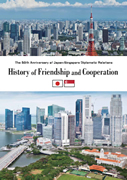 Message from the Minister of Foreign Affairs
The 50th Anniversary of Japan-Singapore Diplomatic Relations
Three Stories of International Cooperation
Chapter 01: Story of Productivity Development Project
Human Resources are a National Tresure
Chapter 02: Story of Community Policing in Singapore
Public Safety is the Key to the Country's Development
Chapter 03: Story of Human Resource Development for the 21st Century
Moving Toward a True Partnership between Japan and Singapore
Japan's ODA Data for Singapore
Outline of Japan's ODA Project
Contributing to Industrial Human Resource Development
Feedback from Ex-Participants
History of Cooperation between Japan and Singapore
JICA's cooperation in supporting the Rule of Law, based on the following 3 pillars, are shown in this pamphlet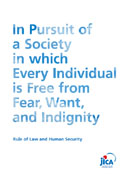 Ensuring Fundamental Rights for Human Security
Promoting Fair and Transparent Business Environment
Ensuring Stability in International Relations
JICA's Cooperation for Rule of Law Promotion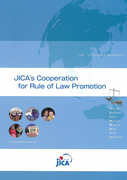 TOHOKUxWORLD: Tohoku, Uniting with the World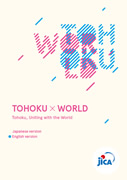 Message from JICA Tohoku
Striving Toward "Resilience through Resonance among Diversified Societies"
Linkage between Tohoku and the World
Steps Forward to and from Tohoku
ODA and JICA, The role of JICA Tohoku
JICA Tohoku Programs
JICA Tohoku Information
CONNECT WITH THE WORLD AND REVITALIZE COMMUNITY -Higashimatsushima City in Cooperation with JICA-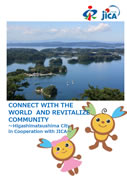 Preface
Higasimatsushima City
Tsunami Damage and Recovery
Damage and Recovery in Higashimatsushima
JICA's Assistance in Higashimatsushima
JICA and Higashimatsushima Collaborative Projects
Joint Effort by Higashimatsushima and JICA
JICA's Public-Private Partnerships toward Regional Revitalization
Delivering Innovation - LEDs for a Bright Future -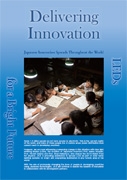 Light Supporting a Himalayan Kingdom
Enhanced Security on the Savannah at Night
Brightening the Lives of Island People
JICA's Regional Cooperation in ASEAN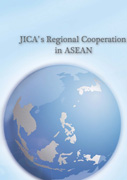 JICA's Vision towards ASEAN Community Roadmap and ASEAN Connectivity
Strengthening ASEAN Connectivity
Strengthening ASEAN Community Building
Overview of JICA's Cooperation to ASEAN
Dive into the Blue Pacific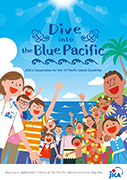 One-Stop Border Post Sourcebook 2nd Edition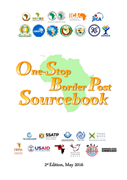 While the 1st edition of the OSBP Sourcebook – published in September 2011 – proved to be a unique and useful tool for implementers of One Stop Border Posts (OSBPs), there was a need to update this reference so that implementers can learn from current knowledge, experience, and good practices rather from knowledge from a few years ago. The 2nd edition of the OSBP Sourcebook aims to meet this need.
Part I: The One-Stop Border Post Concept
Chapter 1: The OSBP Concept
Chapter 2: Rationale and Benefits of OSBPs
Chapter 3: Recommended Processes/ Practices and Lessons Learned for Establishing OSBPs
Chapter 4: OSBPs as Public Sector Projects
Part II: Critical Issues in the Implementation of OSBPs
Chapter 5: Baseline Surveys, Impact Assessment, and Monitoring for OSBPs
Chapter 6: Institutional Frameworks for OSBPs
Chapter 7: OSBP Funding and Management Models
Chapter 8: Legal and Regulatory Frameworks for OSBPs
Chapter 9: Border Procedures for OSBPs – Simplification and Harmonization
Chapter 10: Physical Facilities and Traffic Flow in OSBPs
Chapter 11: ICT and OSBPs
Chapter 12: Other Transport and Trade Facilitation Tools
Part III: OSBP Case Studies
Chapter 13: OSBP Case Studies
Agenda 2063 and JICA's Cooperation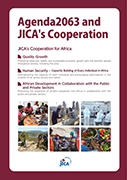 Development of Industrial Human Resources in Africa : ABE Initiative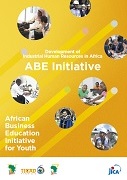 What is the ABE Initiative?
JICA in a Dynamic Africa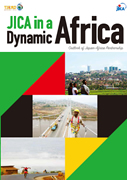 Through photos and data, the pamphlet visually introduces JICA's achievements in African assistance in a wide range of fields, including infrastructure building, human resource development, agriculture, education, and peacebuilding.
Quality Infrastructure
Human Resource Development for Business and Industry
Agriculture and Fisheries
Quality Education for All
Universal Health Coverage
Access to Safe Water
Tackling Climate Change
Peace and Stability
History and Achievements of the TICAD
Data on Japan-Africa Cooperation
Private Sector Development in Africa and the Role of Japanese Private Sector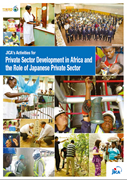 The pamphlet outlines JICA's efforts to develop the African private sector and collaborate with the private sector in an easy-to-understand manner. It introduces the private-sector partnership program, overseas volunteer programs in collaboration with the private sector, and the ABE Initiative.
JICA's activities for private sector-led economic growth in Africa
Promoting Japanese business activities in Africa for inclusive and sustainable development
Menu of JICA's Partnership with the Japanese Private Sector
Activities of Japanese companies in collaboration with their African partners
African Business Education Initiative for Youth (ABE Initiative)
Private-Sector Partnership Volunteer Program
JICA's Initiatives for Africa
Advancing Africa's Development through People, Technology and Innovation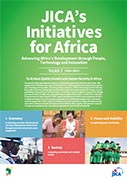 This pamphlet summarizes JICA's initiatives for Africa in line with 'TICAD7: Japan's contributions for Africa,' which was released by the government of Japan at TICAD7 in 2019.
Accelerating economic transformation and improving business environment through innovation and private sector engagement
Deepening sustainable and resilient society
Strengthening peace and stability
JICA's Initiatives in Africa
Progress and achievements in activities for "Investment for the Future of Africa"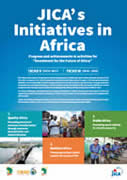 Promoting structural economic transformation through economic diverification and industrialization
Promoting resilient health systems for quality of life
Promoting social stability for shared prosperity
JICA's Activities in Africa "QUALITY AND EMPOWERMENT"
Public-Private Partnership Initiatives in Africa TICAD V (2013-17) TICADVI (2016-2017)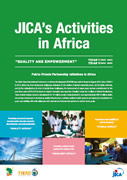 Updates on JICA's activities in Africa under TICADV & TICADVI, based on the following 3 pillars of Nairobi Declaration, are shown in this pamphlet.
Promoting structural economic transformation through economic diverification and industrialization
Promoting resilient health systems for quality of life
Promoting social stability for shared prosperity
JICA's Activities in Africa TICAD V: Five-Years Assistance 2013-2017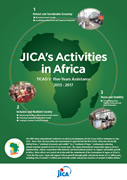 Robust and Sustainable Economy
Inclusive and Resilient Society
Peace and Stability
JICA in Sudan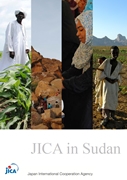 About JICA
Where We Work
Our Programs - Ensuring Human Security
Our Programs - Building Bridge between People and Public Sector
Our Programs
Towards Further Cooperation
The Birth of NEW JICA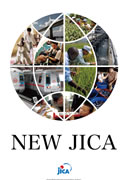 Facts and Figures
Our Vision, Mission and Strategy
Appendix: Quick Facts
JICA's Approach to the Millennium Development Goals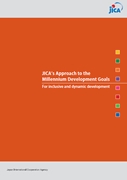 Overview and Progress of the MDGs
JICA's Approach to the MDGs
Towards the Achievement of the MDGs - New Challenges -
JICA's "Human Security" Approach: Features and Case Studies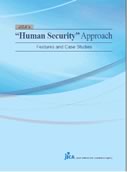 Human Security and JICA
Freedom from Fear and Want
Thorough consideration for the socially vulnerable
Protection and Empowerment
Addressing global risks
REDD+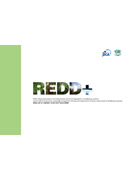 This pamphlet was jointly produced by JICA and ITTO (International Tropical Timber Organization).
We are islanders! : For the future of the Pacific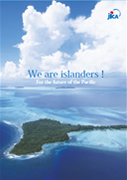 We are islanders ! : For the future of the Pacific
Links between Japan and the Pacific region
Activities by JICA in the Pacific region
JICA Offices and Branches in the Pacific region
Our Commitment to Peace JICA's Approach to Peacebuilding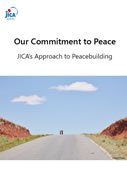 In Development Cooperation Charter issued in 2015 the Japanese Government committed itself to contribute more proactively to the peace, stability and prosperity of the international community and, in a bid to achieve this goal the Charter set "sharing universal values and realizing a peaceful and secure society" as one of the priority issues to be tackled. In accordance with such government priority, JICA is making contributions through two areas of "realizing an equitable and inclusive society", and "ensuring peace, stability, and safety". In the field of "ensuring peace, stability, and safety", JICA conducts (1) Building a resilient state where conflict does not occur/recur, and (2) Establishing just and robust governance.
Bridging towards Peacebuilding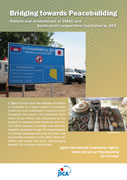 A legacy of more than two decades of conflict in Cambodia is a large number of concealed landmines and unexploded ordnance (UXO) throughout the country. The Cambodian Mine Action Center (CMAC) was established for the purpose of removing those landmines and UXO.
The CMAC possess knowledge and technical capability developed through the implementation of activities spanning more than 20 years. How will activities conducted by the CMAC, which has walked step-in-step with Japan, develop going forward? This is a report from the field.
Water Human Future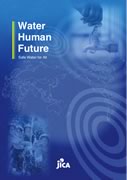 Capacity Development in the Water Sector for the Enhancement of Human Security
Safe and Stable Water Supply and Improvement of Sanitation
Water Environment Preservation
Improvement of Flood Management to Protect Lives and Property
Integrated Water Resources Management (IWRM)
Creating a Sound Material-cycle Society in Small Islands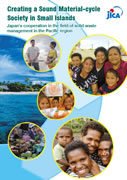 Japan's cooperation in the field of solid waste management in the Pacific region
Every Life is Precious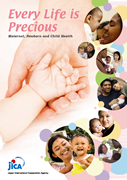 Maternal, Newborn and Child Health Issues
JICA's Programs and Projects for Maternal, Newborn and Child Health (MNCH)
MCH Handbook
Bangladesh
Lao People's Democratic Republic
Paraguay
Republic of Ghana
JICA's Cooperation for Climate Change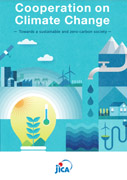 Indonesia's Development and JICA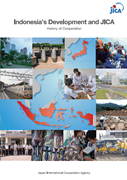 (English)
(Indonesian)
JICA Basic Education Cooperation in Africa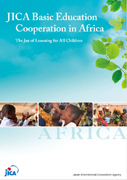 Africa's Current Situation and JICA's Cooperation in Basic Education
Together With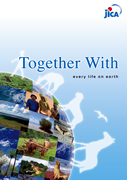 With Nature
With the World
With Belief
With Hope
With You
Urban Development : Shaping a Better Future With People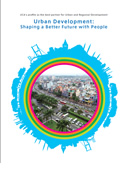 JICA's Profile as the best partner for Urban and Regional Development
JICA's Cooperation in Egypt (For Sustainable Growth and Prosperity of Egypt)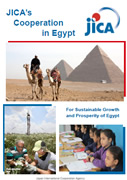 General description of Egypt
Activities in each sector
JICA's Major Projects
JICA's Cooperation in Tunisia (Coopération de la JICA en Tunisie depuis 1975)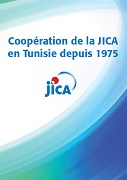 JICA Tunisia at a Glance
Overview on JICA Tunisia Office's Programs
Major Projects in Tunisia
Lists of all Projects Since 1975 (Technical Cooperation, Grants and Yen Loan)
Ongoing Projects Sheets
JICA Development Studies Program (JICA-DSP)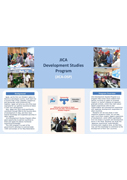 JICA's activities on Disability and Development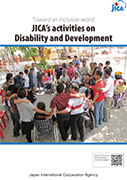 JICA's Cooperation for Disaster Risk Reduction: Disaster Resilient Society for All - Integrating Disaster Risk Reduction Challenges with Sustainable Development -