On 6th and 7th June, 2019, the Mentor Award event was held in Belgrade. This event was attended by representatives of the Ministry of Economy, Development Agency of Serbia, JICA Balkan Office and the mentors and government officials from Serbia and the region. Mentoring service is main activity of the "Project on Establishment and Promotion of mentoring Service for Small and Medium Enterprises in the Western Balkans (SMEs) Phase 2". JICA started to provide technical assistance on establishing of the mentoring service system in Serbia since 2008, based on Japanese experience of the economic advisers for enterprises.
Following speakers delivered opening remarks: Rados Gazdic (Acting Director, Development Agency of Serbia), Ms. Ana Zegarac (Director of Sector for International Cooperation, Development Agency of Serbia). Katarina Obradovic Jovanovic (Assistant Minister, Ministry of Economy of the Republic of Serbia) and Mr. Takasi Hibino (Deputy Resident Representative of JICA Balkan Office).
All speakers stated importance of having this Mentoring Service system in supporting development of SMEs. Ms. Zegarac said that there are 70 mentors trained from 16 certified development agencies and more than 2000 users of the Mentoring Service.
Mentoring Service system has a big potential for innovative activities, said Mr. Hibino, by mentioning a good example from Japan, about one mother who using her every day experience travelling with a baby carriage in metro, developed innovative application map for metro transit. Mentoring service helped her to develop this business idea, which became a very successful since her application is one of the famous map in Tokyo metro stations.
Thirty mentors shared their mentoring experience of working with different companies. They presented the whole process of mentoring, from establishing trust building with owners of the companies, through mapping main challenges, formulating key activities, priorities and further steps towards future development of company. Mentors stated importance of using current capacities and intellectual capital in increasing and improving company business.
With a support of the project, many small and medium enterprises were significantly improved. Most of these enterprises play an important role on the market.
At the end of two days event, the best mentors in two categories (for already existed (mature) companies and start up) were awarded, and new mentors received certificates. The best mentor in both categories is Ms. Ljiljana Markovic from the Regional Development Agency and European Integration from Belgrade. The second awarded in the mature companies category is Branko Brkovic from the Regional Development Agency for the Eastern Serbia and the third place was shared between Natasa Jovanovic from the Regional Development Agency "Zlatibor" and Sasa Dedic from the Regional Development Agency "Braničevo-Podunavlje". In the startup category, the second awarded is Milica Cukaric from the Regional Development Agency for economic development of Sumadija and Pomoravlje and the third is Sasa Dedic.
Awards were deliverd by Mr. Hibino Takashi (JICA Balkan Office), Ms. Ana Zegarac (RAS), Takashi Kimura (JICA consultant from Japan).
The improvement of mentoring service is visible every year, serious companies started to participate in mentoring service, as well as the Japanese experience and expertise brought great results in developing Mentoring Service in Serbia and the region, were conclusions by the representatives of Development Agency of Serbia, JICA Balkan Office and Government officials from the region, in their closing remarks.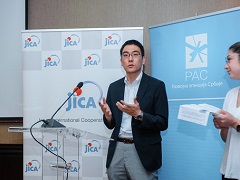 Mr. Takashi Hibino, Senior Representative, JICA Balkan Office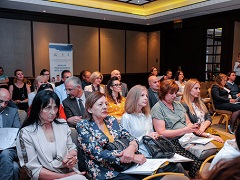 Mentors and guests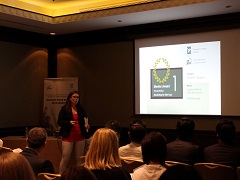 Ms. Ljiljana Markovic, First awarded Mentor delivering presentation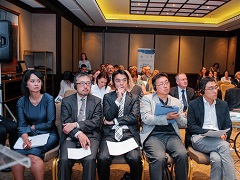 (From left to right) Ms. Chine Koga, JICA Expert, Mr. Jun Hirashima, Project Coordinator, Mr. Motoyuki Nishida, Project formulation advisor, JICA Balkan Office and Mr. Hibino Takashi, Senior Representative, JICA Balkan Office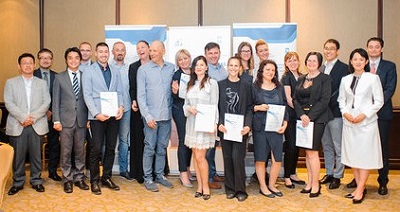 Awarded and new certified mentors