On September 9th, the first Mentoring Forum was held in Belgrade. Mentoring Forum is a part of the ''Project on Establishment and Promotion of mentoring Service for Small and Medium Enterprises in the Western Balkans (SMEs) Phase 2".
This event was attended by representatives of the Ministry of Economy, Development Agency of Serbia, JICA Balkan Office and the mentors and government officials from Serbia and the region. Mentoring service is main activity of the ''Project on Establishment and Promotion of mentoring Service for Small and Medium Enterprises in the Western Balkans (SMEs) Phase 2''. JICA started to provide technical assistance on establishing of the mentoring service system in Serbia since 2008, based on Japanese experience of the economic advisers for enterprises.
Following speakers delivered opening remarks: Mr. Rados Gazdic (Acting Director, Development Agency of Serbia), Ms. Ana Zegarac (Director of Sector for International Cooperation, Development Agency of Serbia). Ms. Katarina Obradovic Jovanovic (Assistant Minister, Ministry of Economy of the Republic of Serbia), and Mr. Takashi Hibino (Deputy Resident Representative of JICA Balkan Office).
Ms. Zegarac mentioned the efforts of the Development Agency of Serbia to standardize a set of mentoring services. Seventy mentors from 16 regional agencies have been certified so far.
Mr. Hibino emphasized importance of Mentoring program in increasing capacities of business towards achieving European quality standards. "Many Japanese companies coming to Serbia, this year Toyo Tares announced to open their factory in Serbia, which is said that the investment of 400 million Euros. Japanese companies are willing to have transaction with Serbian enterprises, if they can supply high quality products in accordance with the European standards. I truly believe that many SMEs will have opportunity to use mentoring services to improve their business. "
Participants of the Forum had opportunity to learn from Japanese experts about the Kaizen Culture as a Japanese way to make a difference in the long run. They also learned how the implementation looks like in a big company. Japanese experts explained that a key of success of Japanese companies which operates for many years (the oldest one has been in business for 1400 years) is continuous work on improvement.
In panel discussion, five beneficiaries (Sanja Milosavljevic -Waw Milos, Pasta production, Beograd; Vesna Njegic - Bakery Kljuc, Beograd; Maja Ilić - director of sales and marketing, Milan Blagojević AD, Smederevo and Alen Vujić, founder of Appletown doo Jabukovac) shared their experiences in using the mentoring service. They were discussing benefits and challenges, differences in applying mentoring system in small enterprises and bigger companies, as well as about the ways that mentoring helped them to increase and improve their business. All mentors agreed that mentoring had changed the way they perceived problems, ideas and future development of their enterprises.
At the end of event, beneficiaries of mentoring service received certificates and certification labels that their enterprise used mentoring service.
A forum like this will be used as a platform to improve mentoring service by directly involving beneficiaries in improvement process.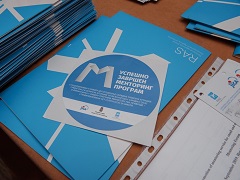 Certification Label for companies successfully finished Mentoring Program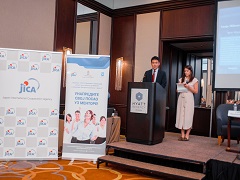 Opening remarks - Mr. Hibino Takashi, Deputy Resident Representative, JICA Balkan Office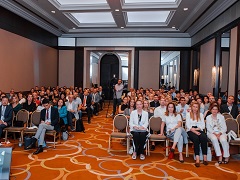 Forums participants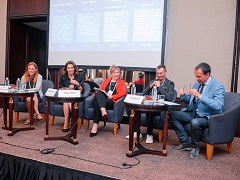 Panel Discussion – Beneficiaries of mentoring service