In response to the earthquake in Albania, occurred on November 26, JICA has donated emergency relief goods to the affected people in this country.
The donated emergency relief goods arrived in Tirana on December 3. The handover protocol was held at the Tirana International Airport, on December 4 at 11AM (local time). From the Albanian side, Mr. Petro Koci, Deputy Defense Minister and Mr. Paulin Luli, General Director of General Directorate of State's Material Reserve, attended the protocol, while the attendees from the Japanese side were H.E. Makoto Ito, Ambassador of Japan to Albania and Mr. Jiro Takeichi, Chief Representative of JICA Balkan Office.
At the hand-over protocol, both Mr. Koci and Mr. Luli expressed their deep gratitude for Japanese prompt response to the earthquake. Mr. Koci mentioned that most of the provided tents would be donated to the affected people in countryside. In response to this, H.E. Ito expressed his sympathy for the victims in the earthquake and wished them a quick recovery. Mr. Takeichi expressed his respect to the local emergency responders who had been providing continuous support to the victims and he hopes that the donated goods would reach the people in need very soon.
The Government of Albania is now going to distribute the emergency relief goods to the people affected by the earthquake.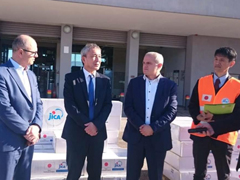 H.E. Ito delivering a speech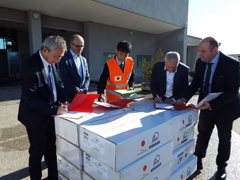 The attendees signing the Donation Certificate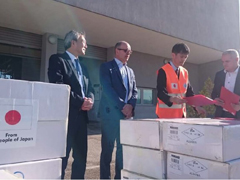 Mr. Takeichi handing over the Donation Certificate