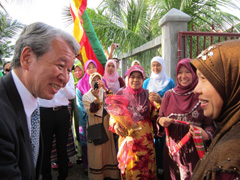 Tanaka (left) visits a NGO in Mindanao that manages a vocational training center for women, supported by JICA
JICA President Akihiko Tanaka visited the Philippines from April 30 to May 6. The objective of Tanaka's first business trip abroad as president was to pay a call to President Aquino and to obtain first-hand understanding of JICA projects in the field. His field visits included the conflict affected areas in Muslim Mindanao and Metro Manila. On May 4, Tanaka attended the 45th Annual Meeting of the Asian Development Bank (ADB), held in Manila, where he met with Ministerial level delegations of several member countries as well as the top management officials of multilateral as well as bilateral international development institutions.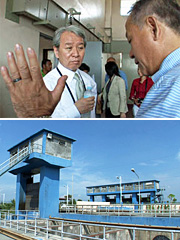 Tanaka visits the site of a flood control project (top), including a water gate for flood management (above)
In the city of Cotabato, Tanaka held discussions with such key stakeholders as Governor Mujiv Hataman of ARMM (Autonomous Region of Muslim Mindanao); Ghadzali Jaafar, vice chairman for political affairs of the MILF (Moro Islamic Liberation Front); and Major General Dato' Abdul Rahim Bin Hj Mohd Yusuff, head of mission of IMT (International Monitoring Team). With the meetings coming right after the agreement on Decision Points on Principles, many of the stakeholders made positive statements toward peace. Tanaka also met with beneficiaries of Japanese ODA projects relating to capacity development and community-level infrastructure. Throughout, Tanaka was accompanied by JICA staff assigned to the IMT (International Monitoring Team) to work for its socio-economic mission, which supports the peace process by gaining trust from all parties.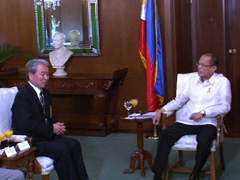 Tanaka (left) and President Aquino
On May 2-3, in Metro Manila, Tanaka paid field visits to such large-scale infrastructure as mass transit, airports and flood control facilities supported by JICA's ODA loan assistance. While the need to invest more in urban infrastructure was evident, challenges in the implementation, such as resettlement and providing alternative settlement, were confirmed. As for technical cooperation, Tanaka observed that long-standing assistance to the Philippine Coast Guard is bearing fruit in capacity development.

During his call to President Aquino on May 4, Tanaka shared his insights from his first visit to the island of Mindanao, and mentioned that JICA will consider enhancing its assistance to the conflict-affected areas of Mindanao once the peace agreement is settled. He also expressed his expectation that the leadership of President Aquino will help achieve peace. PPP (Public-Private Partnership) in infrastructure, among other things, was highlighted as an important area of cooperation given the infrastructure deficit in Metro Manila. President Aquino agreed that capacity development in the conflict-affected areas in Mindanao is much needed, and he also referred to the urgent need to provide mass transit in Metro Manila.
President Tanaka participated in the ADB annual meeting and proactively talked with ministerial delegation members from each country and top management officials of development assistance agencies.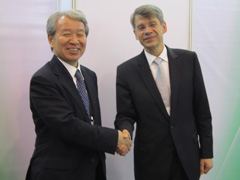 Tanaka (left) and Norbert Kloppenburg, a member of the board of managing directors of KfW
The 45th ADB annual meeting was held May 2-5, with approximately 5,000 participants, in Manila, amid a situation where many Asian countries maintain steady economic growth while a serious debt crisis affects European countries. At the opening speech, ADB President Haruhiko Kuroda stressed the need to realize Inclusive, Green, Knowledge-Based Growth while he touched on such issues for Asian countries as growing income disparities both domestic and among countries of the region, as well as the ongoing aging society, which might undermine future growth. Philippine President Aquino said development and corruption eradication are important for growing the Philippine economy.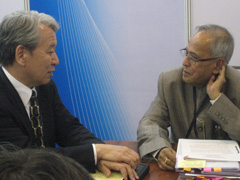 Tanaka (left) and Pranab Mukherjee, India's minister of finance
Tanaka conferred with finance ministers of Indonesia and India on future cooperation during the ADB annual meeting. He also exchanged opinions on situations in each region and on collaborative works with heads of ADB, Inter-American Development Bank (IDB), Agence Française de Développement (AFD) and Kreditanstalt für Wiederaufbau (KfW)
Agreement with the ministers of finance of Indonesia and India regarding the necessity of further infrastructure development
In the meeting between Tanaka and Agus Martowardojo, minister of finance of Indonesia, Agus explained to Tanaka that Indonesia plans to make a master plan for the acceleration of economic development in Indonesia from 2011 to 2025. Under the plan, Indonesia will develop six economic corridors and further expand infrastructure development in consideration of regional balance. In response to the Agus's remarks, Tanaka answered that JICA would like to continue close cooperation with Indonesia based on the master plan. Tanaka also asked about the possibility of development strengthening the ties between the northern part of Indonesia and Mindanao, located in the southern part of the Philippines. And Agus mentioned the necessity of development to strengthen the connections between the islands of South East Asia. In addition, both sides had discussions about the progress of technical cooperation from JICA to support the establishment of the new international development agency of Indonesia.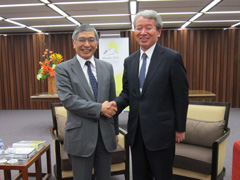 ADB President Kuroda (left) and Tanaka
In the meeting held on May 4, Pranab Mukherjee, the Finance Minister of India, and Tanaka, exchanged their views on the development agenda in India and agreed that they both put a high priority on 'Inclusive growth'. The Minister emphasized that India should invest in social sector such as rural connectivity, job to jobless, and expanding basic education as well as infrastructure development. In response the President stated that the development of infrastructure and social sectors are JICA's priority areas in India, and that JICA would like to establish a win-win relationship achieving both India's sustainable growth and increasing foreign investment by a lot of Japanese private companies, which show their interest in India. They concluded that creating favorable environment is crucial to facilitate the investment.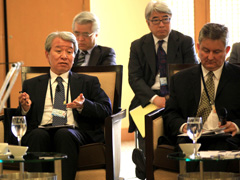 Tanaka (front left) makes a keynote speech to the heads of delegations
In addition, Tanaka met ADB President Kuroda on May 5, and they confirmed the necessity of paying attention to some countries whose economic growth is stagnating while steady economic growth in Asia is likely to be focused. Kuroda also mentioned the future direction of ADB assistance that stresses inclusive growth, utilizing capital on Asian Development Fund increased by a recent agreement with ADB shareholders.

During the ADB annual meeting, two seminars for the leaders of delegates from each country were held on May 3 and 5, as the first event of the ADB annual meeting. Professor Ronald Mackinnon at Stanford University and Tanaka were invited to the seminars on May 3 and 5, respectively. Tanaka made a presentation for around 30 leaders, including ADB President Kuroda and Cesar Purisima, Secretary of the Department of Finance in the Philippines.
While Tanaka stressed the necessity of improved access to finance, as well as a better social safety net, medical insurance/pension system and taxation system, he also emphasized the importance of peace as an indispensable ingredient of inclusive development for realizing the Asian Century by 2050.