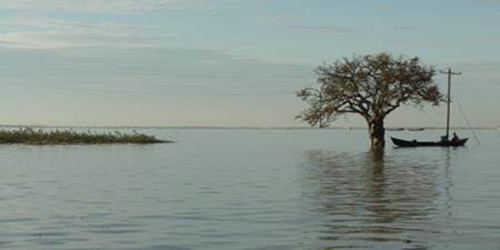 Challenges & Cooperation Policy
According world risk report 2016 by UNU-EHS, Bangladesh is ranked fifth in the disaster risk among the world. People in Bangladesh are often affected by water-related natural disasters, including floods, riverbank erosion and cyclones.
In addition, since rapid urbanization has happened recently in Dhaka and other cities in Bangladesh, urban planning as well as building constructions are not well designed in order to develop resilience against earthquakes. Cities in Bangladesh are vulnerable to earthquake.
1) Flood and riverbank erosion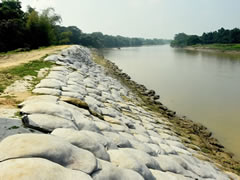 Floods are part of the natural environment of Bangladesh and success of local people in adapting their life styles of accommodate seasonal floods. However, the characteristics of floods recently have changed due to changes in land use, settlement pattern.
In the urban area such as Dhaka, Dhaka receives about 2,000 mm of rainfall annually, of which around 80% falls during the monsoon. However, Due to inappropriate management of wetlands and drainage system and less number of pump stations, Dhaka suffers from water logging and river flooding which causes traffic congestion and adverse effect of city environment.
The country is also known as largest delta in the world and located on a vast flat floodplain at the confluence of three main rivers the Jamuna (and Padma), the Ganges, and the Meghna. The meandering of the rivers due to highly dynamic river morphology causes the riverbank erosion which is one of the most prominent disasters in Bangladesh. The people who are living along the rivers are forced to relocate.
2) Cyclone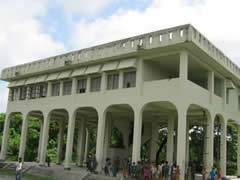 The country is also vulnerable to cyclones. During the pre-monsoon (April–May) or post-monsoon (October–November) seasons, cyclones frequently hit the coastal regions of Bangladesh.
The number and severity of cyclones in Bangladesh and the associated mortalities have varied greatly during the past 50 years. The two deadliest cyclones occurred in 1970 and 1991, with 500,000 and almost 140,000 deaths, respectively. However, during the past 20 years, Bangladesh has been managing to reduce cyclone-related deaths by modernizing early warning systems, developing shelters and evacuation plans, constructing coastal embankments, maintaining and improving coastal forest cover and raising awareness at the community level.
3) Earthquake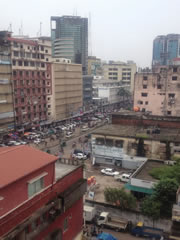 The country is located in the Alpine-Himalayan orogenic belt which is one of the most seismically active regions in the world. Several earthquakes have occurred in Nepal and India and sometimes affected the northern part of Bangladesh such as Sylhet. Southern part of Bangladesh also has a magnitude of 6.1 in 1997 and claims at 23 lives.
Also, the Bangladesh National Building Code (BNBC), which decides a national standard of building construction, was just effectuated in 2008 after long-time pending since enactment in 1993.
Estimation by UNDP in 2013 alarmed that in case an earthquake of 6.5 magnitude hits Dhaka, more than 88,000 buildings could collapse causing tremendous human sufferings. The collapse of Rana Plaza in April 2013 and Nepali Earthquake in April 2015 became a "wake-up call" to urban resilience issues against earthquakes.
Since 1986, JICA is working for Disaster Risk Reduction by optimizing Japanese experience and technology. JICA is one of the leading agencies for DRR sector in Bangladesh.
Bangladesh has been taking efforts to emergency response and post-disaster rehabilitation & recovery so far, but need to focus more on taking countermeasures for prevention & mitigation for sustainable development by learning from past experience, so that society prevents new and reduces existing disaster risk through repeatedly experienced disaster management cycle.
JICA supports Government of Bangladesh to implement strong disaster management cycle for DRR. In addition, JICA highly focus on implementing Projects in line with Sendai Framework for DRR 2015-2030 which is the first major agreement of the post-2015 development agenda, with seven targets and four priorities for action.
Latest News / Topics
November 2, 2016 DRR sector page open
Project
More than USD 800 million Assistance so far to address Bangladesh's vulnerability to Natural Disaster and Climate Change
Flood / Cyclone
Earthquake
Chronology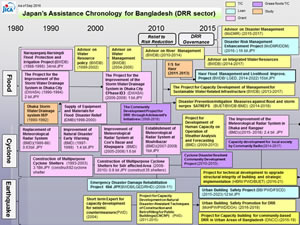 Project map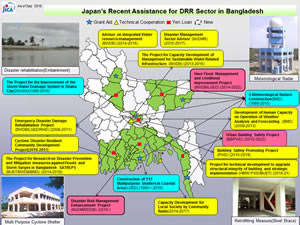 Useful Link