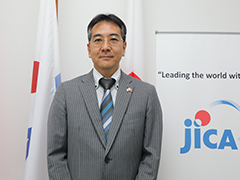 Welcome to JICA Timor-Leste website!
Timor-Leste is the first new country to be born in this century, becoming independent in May 2002 after the end of Portuguese colonial rule and the era of effective rule by Indonesia.
The land is almost the same size as Iwate Prefecture (15,000 square kilometers), and there are many mountainous areas, surrounded by the sea. It has a warm climate all year round and is rich in nature. About 1.3 million people live not only in urban areas, but also in rural mountain areas.
After 19 years of independence, security situation has been improved, and Timor-Leste is entering a period of development in which economic growth and stability of life can be passed on to the people from the era of reconstruction from conflict and the creation of basic nation structures. With the aim of breaking away from the dependence on oil and natural gas mined in the nearby seas, it is necessary to continue to diversify domestic industries, create jobs, and develop basic socio-economic infrastructure. In light of the recent impact of COVID-19, it is a challenge to improve livelihoods and further utilize the agriculture, forestry and fisheries industry, which is a domestic resource.
JICA has been supporting Timor-Leste continuously since shortly after the 1999 referendum, which decided on substantial independence. We carried out activities such as rehabilitating infrastructure exhausted by the unrest that pre-independence, human resource development through sharing knowledge, and improving the lives and health of residents through cooperation with Japanese NGOs. Recently, in addition to infrastructure development such as the development of ferry terminals in the capital Dili, the construction of roads and bridges, and the construction of the Faculty of Engineering, Science and Technology (FEST) building of National University of Timor-RorLorosae (UNTL), which is the only national university. Also, we are focusing on human resource and organizational development, such as increasing production and improving distribution of domestic rice, managing natural resources to support the sustainable lives of residents in mountain areas, and supporting FEST, UNTL in collaboration with faculty members of Japanese University.
Through these activities, we hope to contribute to the development of Timor-Leste and to become a bridge between Timor-Leste and The People of Japan.
This website introduces JICA projects in Timor-Leste, so I would appreciate it as an opportunity to think about and act together on the development of Timor-Leste during its development.
Please visit our Facebook page: @JICATimorLeste to see more our activities.
JICA Timor-Leste (External Site: Facebook) Opens in a new window
February, 2021
GOTO Ko
Chief Representative
JICA Timor-Leste office