Tunisia, a country far away but feeling close by
2023.08.30
Ueno Shuhei Chief Representative JICA Tunisia Office
Before my assignment to Tunisia in 2020, my impression of the nation was "A beautiful country facing the Mediterranean." Now, the impression has been changed to "A country that shares similar ideas with Japan and with whom Japan should deepen relationship." Here, I would like to talk about this Tunisia and JICA's cooperation there, especially the recent efforts.
1. Tunisia and the Development Challenges
Tunisia is a country facing the Mediterranean Sea, located at the northern tip of Africa. The area is less than half of Japan, and the population is about one tenth. It is surrounded by Libya to the east, Algeria to the west, and Italy across the Mediterranean Sea to the north. Most Tunisians are ethnically Arab, speak Arabic, and many people speak French too.

The capital Tunis is home to the beautiful town of Sidi Bou Said, painted in white and blue, and the ruins of Carthage which date back more than 2,000 years in Roman times. In the south, there is a desert area, which is known as a Star Wars filming location. Tunisian olive oil is exported to the world, and a seasoning called Harissa that uses chili peppers are sold in Japan recently.

Tunisia is the place where the Arab Spring of 2011 first started and is said to be the only country that has succeeded in this "democratization" movement. This said, however, the country currently has many challenges: a sluggish fiscal situation led by recent low economic growth and Covid-19, and water and power shortages due to climate change and to the extreme heat of over 40 degrees Celsius. In recent years, there has also been the issue of a large number of illegal migrants from sub-Saharan Africa traveling to Europe through Tunisia.

2. A nation who shares similar ideas and values with Japan
After I was assigned to Tunisia, I noticed similarities with Japan. First, because of the lack of natural resources, both countries place highly of "human" development. Professor Safwan Masri of Georgetown University in Qatar says, Tunisia is the only nation among the Arab nations that succeeded in the democratization[1]because of its excellent "education". In fact, when I work here, I don't suffer from unreasonable and forceful negotiations. I can talk with counterparts logically with mutual trust. I feel that there is a "common ground" with Japan.

I believe that in addition to education, there is a factor of emphasis on "law" in this common ground. In 1861, Tunisia became the first Arab nation to enact a constitution. For more than 150 years, people have lived their lives based on the law. When President Kais Saied suspended the parliament two years ago, some media reported it as a coup. However, this was not by force, it was a measure in accordance with the Constitution. Many Tunisian people supported their president, and then the constitution was amended by a referendum, which continues to this day. I felt that the country was run based on the "law".

What's more, one of the images that the Japanese people have on Middle Eastern countries is gender inequality, but this is not the case in Tunisia. The first president Bourguiba moved away from the traditional Islamic law to improve women's rights. Since then, gender equality was stipulated in the constitution, and the nation in 2014 introduced the quota system to require political parties to have an equal number of men and women in their candidate lists. Then in 2021, they had the female prime minister who was the first in Arab countries. In Tunisia, I often work with female ministers, director generals, and company presidents.
3. JICA's Initiatives
JICA will cooperate Tunisia by focusing on supporting the economic development and stabilizing the society. Last year and this year, the power generation facility and the highway that JICA has been working with Tunisia for many years have been completed. Furthermore, JICA accepts about 20 government officials working at the customs and ports etc. as trainees in Japan every year. In response to water shortages, we have been cooperating in developing water supply and sewerage facilities along with a seawater desalination facility. JICA will continue cooperating on development issues of Tunisia.

Recently, we have been promoting cooperations which can further deepen the relationships between Japan and Tunisia. One of them is the "JICA Chair". In collaboration with the Ecole Nationale d'Administration de Tunis (ENA), we share with young leaders, who are aspiring to become ministers and director generals, Japan's development experience. These include how Japan has learned from foreign countries in the past, how it has cultivated people, and how it has developed its industry. I hope that the future leaders of Tunisia will be interested in Japan and that it would promote more people who share ideas and values with Japan in the future.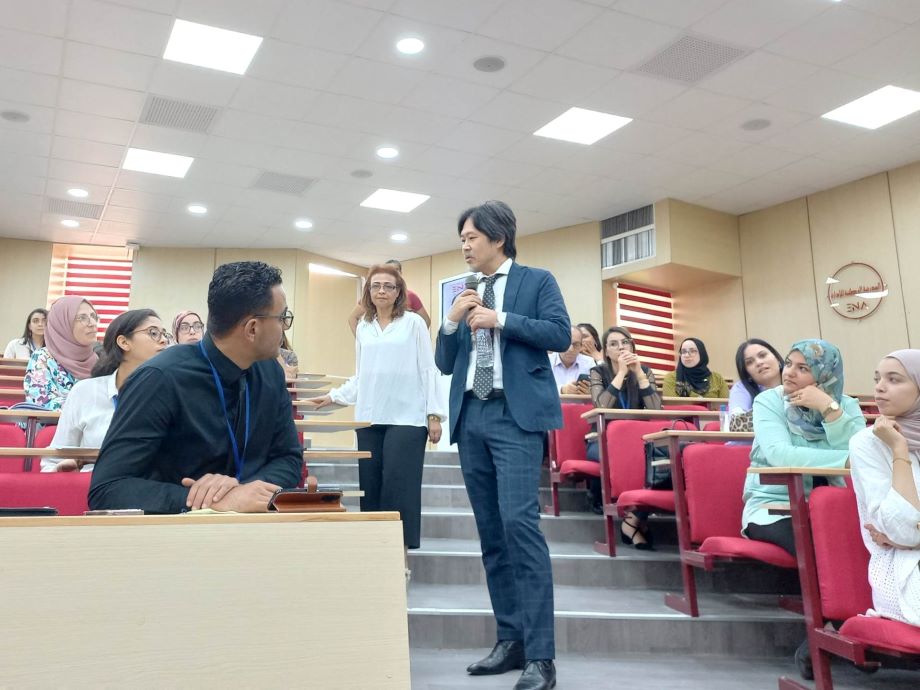 The Japan Overseas Cooperation Volunteers (JOCV) is another form of cooperation that brings the two countries closer. JICA swiftly re-dispatched the volunteers during the Covid-19. Now in Tunisia, there are about 20 volunteers actively working in the fields of music, sports, education, and the like. Recently, a former volunteer, who was once dispatched to Tunisia, has returned this time as a JICA Chair lecturer and visited where he used to work for the first time in 30 years. To our surprise, the past host still remembered those days vividly. It was a very touching reunion. The current volunteers are teaching many Tunisian children judo and piano etc. I was deeply moved by thinking that these children could in future cherish the memories of learning something from Japanese volunteers even after 30 years.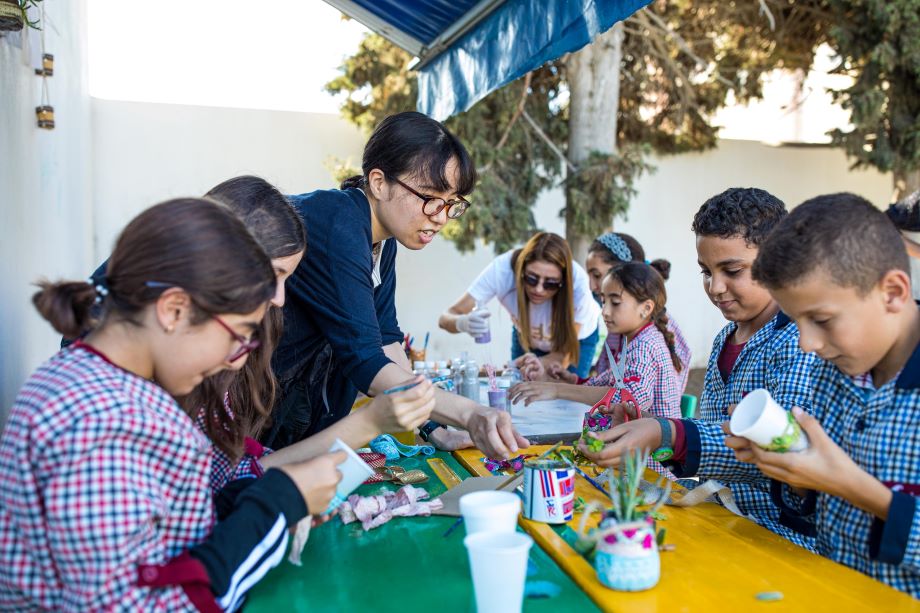 Last year, the Tokyo International Conference on African Development (TICAD8) was held in Tunisia. Taking this opportunity, Tunisia wanted not only to be a "cooperation receiver " but also to become the "cooperation provider" to Africa. This year, Tunisia's executing organizations and JICA jointly started providing trainings in environment and health for more than 10 African countries. What's more, Tunisia has started to provide trainings for Libya how to improve productivity through "kaizen", which JICA had introduced to Tunisia over years. Japan and Tunisia are now partners in promoting cooperation to other countries.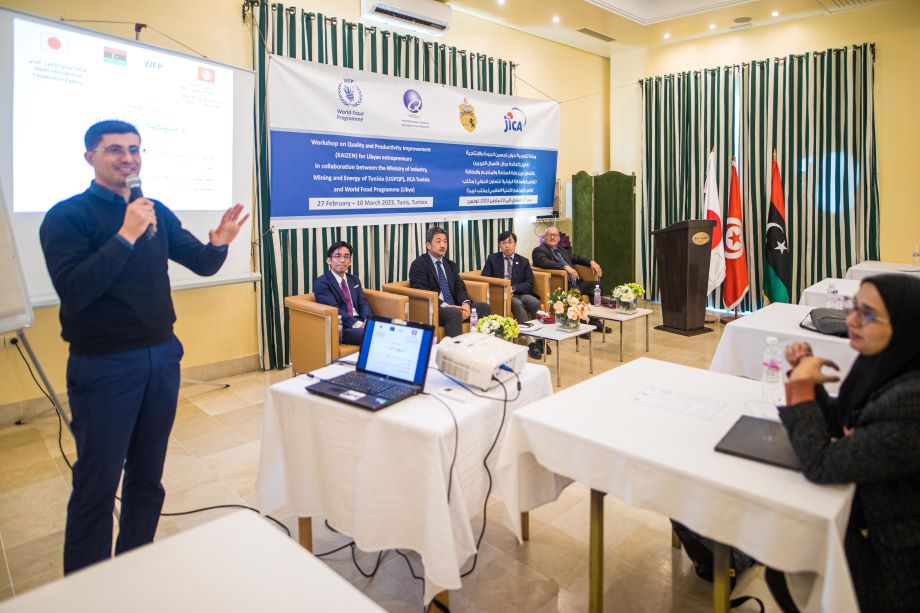 4. Future prospects
Tunisia is said to be a country among Arab nations that succeeded in democratization. The country has a high level of education, a strong emphasis on the law, and progress in gender equality. Tunisia is a country with whom Japan share similar ideas and values. JICA will cooperate with Tunisia for its development, and through these cooperations, I hope that Japan and Tunisia will come together to contribute to global and regional developments.
Further reading
・Launch of the "JICA Chair" at the Tunisian National School of Public Administration (December 2021) (in Japanese)
https://www.jica.go.jp/Resource/information/seminar/2021/20211203_01.html
・Kaizen is transmitted to Libya through Tunisia (March 2023) (in Japanese)
https://www.jica.go.jp/Resource/information/seminar/2022/20230310_01.html
・Completion ceremony for health training for Africa by Japan and Tunisia (July 2023) (in French) *Tunisia Office's Facebook site
https://www.facebook.com/JICATunisiaOffice/posts/pfbid0aAwep6VBx7YtAEHWsTrf1gkoom65iUpxX1UtJ5mPk3B2BGU9RbpB8ozQyxciZYW4l

[1] Masri, 2017, "Tunisia: An Arab Anomaly"