1) Present state of JICA volunteer operations in Ethiopia
Established in 1965, the JICA volunteers aimed at providing technical assistance to partner countries at the grassroots level. JICA volunteer work in Ethiopia began in 1972 with the dispatch of the Japan Overseas Cooperation Volunteers (JOCV). In 2003, a first Senior Volunteers (SV) was dispatched, and today there have been approximately more than 700 total volunteers in the country since 1972. These Japanese young and senior professionals are assigned for two years to live with local communities while fostering self-reliance and international solidarity through their volunteer work.
2) The trajectory of volunteer activities and future developments
a. Initial dispatches (1972 – 1981)
The first JOCV volunteer dispatch in 1972 included professionals, such as smallpox inspectors and auto mechanics. After two dispatches for four years, smallpox in Ethiopia was eradicated, and the volunteer dispatch in this field came to an end. Additionally, volunteer dispatches focusing on primary economic sectors, including agriculture, vegetable production, and civil engineering were also common during this period.
b. After 10 years of dispatches (1982 – 1991)
In comparison to the initial dispatches, during this period JOCV dispatches were expanded to include the northern areas of Ethiopia. In addition to agriculture and civil engineering-related projects, JOCV dispatches rose in relation to education for technicians about infrastructure and the maintenance and operation of machinery.
During this period, the 1985 drought and famine in the north-eastern region brought about great disorder, and in 1991 when the People's Democratic Republic of Ethiopia government collapsed, in March of that year JOCV members were evacuated to Kenya. Following this, there was a half-year suspension of any dispatches of volunteers to the country.
c. After 20 years of dispatches (1992 – 2001)
When JOCV dispatches were recommenced in 1992, for a period they were restricted to Addis Ababa. Though the main focus of these dispatches was agriculture, civil engineering, and maintenance, this period also saw the beginning of dispatches related to computer engineering and mathematics teacher education, as well as public health, nursing, and pharmaceuticals. Additionally, dispatches were also commenced in coordination with JICA projects, including greening projects in the northern areas related to forestation, groundwater development, automobile maintenance, and community development.
d. After 30 years of dispatches (2002 – 2011)
This period saw the concerted start of volunteer activities that reflected Ethiopia's development strategy and Japan's situation, with dispatches related not only to science and mathematics teaching, and information and communication technology (ICT), but also education-related projects such as physical education and early childhood education. In addition, there were dispatches related to tourism promotion, including in the areas of sightseeing, food, and market research. An incremental coordination between JICA and the local government ministries and agencies also began to establish.
2003 saw the first dispatch of the SV, who contributed their experience accrued during Japan's economic growth period, mainly in the areas of engineering education.
e. After 45 years of dispatches (2017-)
As a result of the social unrest situation between 2016 and 2017, dispatches have been suspended to the areas that had previously been the central focus of volunteer activities, namely the Amhara and Oromia Regions.
Since 2017, volunteer activities of around 40-60 people, have been concentrated in Addis Ababa city; the Southern Nations, Nationalities, and People's Region; the Tigray Region; and the Dire Dawa city. In addition to the established education and agricultural fields, demand has grown for volunteers in the fields of tourism and community development supporting the promotion of local industries and the One Village One Product movement.
Additionally, volunteers are conducting their activities related to the JICA technical cooperation scheme involving rope pump dissemination, and follow-up projects involving access to safe water and sanitation.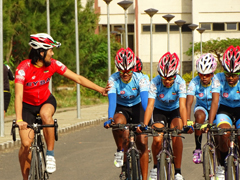 A bicycle race volunteer (left)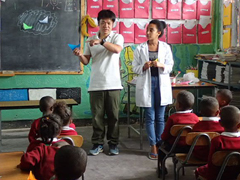 An early child education volunteer (center left)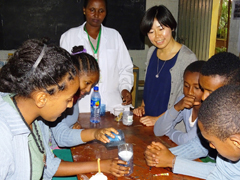 A science education volunteer (center right)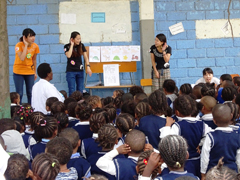 Volunteers for hygiene education at a kindergarten