Location
Address
JICA ETHIOPIA OFFICE
Kirkos Sub-city, Wereda: 01, House No: 301
Hansem Building
2nd & 3rd Floor
Addis Ababa, Ethiopia.
P.O. Box 5384, Addis Ababa, Ethiopia

Tel: + (251)-11-5504755
Fax: + (251)-11-5504465
Email: et_oso_rep@jica.go.jp
If taking a taxi to the JICA Ethiopia Office, please direct your driver as follows:

"Please drive me to Mega Building on Bole Road. Hansem Building is located across the street, next to the Oil Lybia gas station".

When coming from the airport, our office is a 15 minute car ride straight down Bole Road.

Once at the building, please take the elevator to the second floor where you will find our Reception Desk.

Map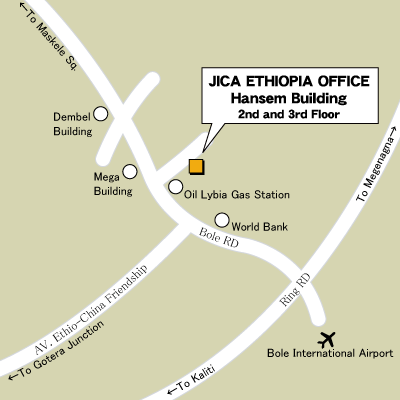 Related Information
The JICA Ethiopia oversees JICA's work in Ethiopia and Djibouti.