Exhibition
Exhibition at the Virtual Global Experience Area
Human Security Exhibition -Learning to Change the World-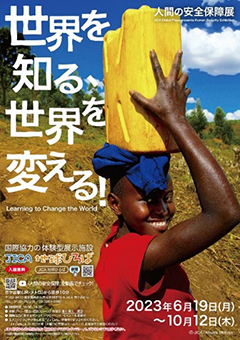 Human Security is a concept that aims to build a world where all people are free from fear and want and can live with peace of mind and dignity. It has now been over 25 years since the concept was first put forward. Over that time, globalization has progressed, technology has advanced, and the world has grown richer as a result. Many new challenges, however, have also arisen, the global coronavirus pandemic and problems associated with inequality among them.
In response, JICA is revisiting Human Security in today's global context and conducting initiatives in support of it. The title of the main exhibition has been partially changed to "Learning to Change the World" and the exhibition itself is being updated. Have you ever thought about life-threatening poverty? Do you know how armed conflict can affect people? We invite you to think together with us about problems the world faces and what can be done to make it a better place for all.
We also hope the exhibition can provide insight into the strength, resilience and daily lives of people throughout the world.
Monthly Special Exhibition
We have two different types of "Monthly special exhibition". One features specific countries/regions for prompting comprehensive understandings about the world, and another one features our partners' social activities such as CSV (Corporate Shared Value)/BOP (Base of the Pyramid) business.