August 24, 2022 marked yet another significant milestone in the long-standing cooperation and partnership between Kenya Forestry Research Institute (KEFRI) and JICA. The two organizations jointly launched a book titled "Dryland Forestry Research and Development in Kenya: Achievement and Lessons of 37 years of Kenya/Japan Cooperation in Forestry" at the TICAD8 "African Initiative for Combating Desertification (AI-CD): Towards Achieving Resilient Africa" side event attended by among others, participants from AI-CD participating countries in the Horn of Africa and the Sahel.
During the occasion KEFRI's Director Dr. Joshua Cheboiwo highlighted the contents of the book and emphasized its importance as not only a record of Research & Development activities in dryland forestry undertaken through KEFRI/JICA collaboration over a period of for more than 3 and a half decades, but also a model of sustained knowledge co-creation. He also noted that the book shares technologies, techniques and good case studies for on dryland forestry and landscape restoration for wide-scale adoption in sub-Saharan Africa. JICA's Chief Represrntative Mr. Hajime Iwama on his part appreciated the long history of collaboration between KEFRI and JICA and congratulated KEFRI for documenting it in the book.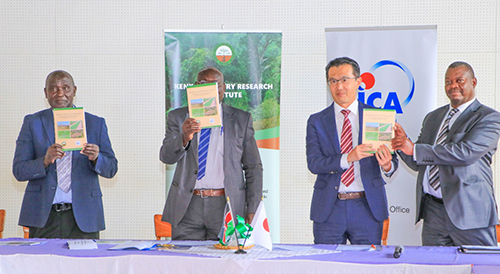 Dr.Joshua Cheboiwa, KEFRI Director (second left) and Mr. Iwama Hajime, Chief Representative of JICA (third left) during the launch.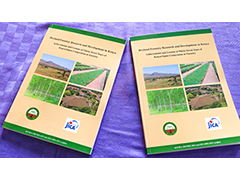 KEFRI/JICA Book