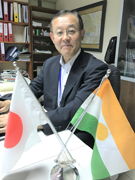 The cooperation between JICA and Niger has a long history with a lot of stories. It started in 1967 when its preceding organization, the Overseas Technical Cooperation Agency (OTCA), dispatched a Japanese economist as an expert to the United Nation Economic Commission for Africa (UNECA) in Niger. From 1985, young Japanese volunteers started coming to Niger to stay for two years with Nigerien people to be involved in communities' development activities through JOCV program. At the same time JICA Niger office was stablished in Niamey. From this year to 2011, around 700 Japanese visited the country and were engaged in the activities at grass roots level with this program.
Because of the hateful sin by terrorists of kidnapping and killing of foreigners in 2011, the JOCV volunteers were obliged to be evacuated and the JICA activities had to be scaled down. It is regretful for us to restrict our cooperation for Nigerien people because of the fear of terrorism coming across the borders. I really pray that the Sahel sub-region recover the security and both the native people and the foreigners can live and work in peace.
In such a difficult situation, JICA continues its efforts in activities in order not to interrupt the history of cooperation and deep friendship built between the two nations. I would like to say that the recent activities stand on the acceleration of community participation in the development. This initiative is originated in 2004 when a technical cooperation project in the education sector "School for All" started. This project has been contributing to the improvement of schools through the COGES (School Management Committee) composed of the school director and the locally-elected community members. This philosophy was realized also in the health sector during the Project for Prevention against Malaria from 2007 to 2010 with which, village health committees were established through democratic election among villagers. In agriculture sector, the Project on Effective Utilization of Reservoirs and Auto Promotion of Local Communities in the Sahel (VRACS) Project which was over last December encouraged farmers for the auto-promotion of local communities through Farmers Field School (FFS). It is my wish to carry out the bi-lateral cooperation to encourage creative ideas towards the development of communities by continuing this philosophy of assistance to the community participation.
Apart from JICA, a Japanese private company has been participating in the exploitation of the uranium mines in Agadez Region since 1974 of which the president takes office as the Honorary Consul General of Niger in Tokyo. There are in Japan also ex-JOCV volunteers and Nigerien nationals. Although those who have close relations with Niger are still very few in Japan, they try often to let the Japanese people be well aware of Niger, for example by organizing a Nigerien Culture Day in January 2016 in Tokyo. We, too, would like to contribute for strengthening the friendship between the two countries in collaboration with them.
YAMAGATA Shigeo
Resident Representative
JICA Niger Office