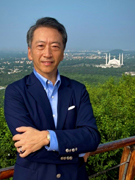 Twenty years have passed since my last assignment in Pakistan. I arrived in Islamabad for my previous position just after the military coup d'etat in October, 1999. This time in April, 2022, I set foot at the Islamabad International Airport just after the success of the non-confidence motion which was the first political event in the history of Pakistan. I felt it was my fate that Pakistan invited me to a political season again. Two months have passed since my arrival here.
How has Pakistan changed during the last 20 years? Looking at Islamabad, several changes can be seen such as; the new international airport and the Bus Rapid Transit System (BRT) are already in service. Residential land development is in rapid progress. Several new golf courses have been developed where affluent people play. Cars and motorbikes are on a massive increase. So are female drivers. The new shopping mall is always full of cheerful citizens. These scenes give me the impression that the wave of development surges and the citizen's quality of life has fairly improved. Pakistani friends warmly welcome my return, but most of them say "It was the good old days twenty years ago." As a development partner, I wish I heard their voices saying "Life is better now than twenty years ago".
Pakistan is the world's fifth-most populous country with a population of 229 million. Sixty percent of the population is below the age of 30 with an average of 23 years. There is no doubt that Pakistan is a young and huge force with immense potential. However, Pakistan's social development index on education and health are typically low and the gender index has remained the lowest in the world. Pakistan urgently needs to tackle investing the human capital on education, health, water and sanitation, agriculture and rural development and so forth. Also, human resource development for industrial growth and improvement of investment climate is essential for the quality advancement of the country. From the geopolitical point of view, Pakistan's stable growth is crucial for regional peace and stability, as it is situated in a location sharing its borders with Afghanistan, China, India and Iran.
Pakistan's present prime minister stated "It is high time for Pakistan to turn around and to be a self-reliant nation." JICA plays its part in development cooperation with Pakistani people, development partners and business society etc. for Pakistan to reach its target and for people to realise the fruits of this development. It is my dream to hear my friends' voices saying "Life in Pakistan is better now than it was ten years ago.", and to see their grown children living happily when I travel to Pakistan ten years later. When this dream comes true, I will feel assured that the bond between Japan and Pakistan has become stronger.
KINOSHITA Yasumitsu
Chief Representative,
JICA Pakistan Office