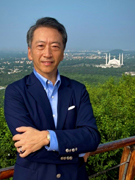 The Official Development Assistance (ODA) towards Pakistan started in 1954. Since then, for more than 60 years, JICA has cooperated for economic and social development of Pakistan in various sectors, such as energy, industry & investment, transport, agriculture & irrigation, education, health, water & sanitation, environment, disaster management and stabilization of Pakistan – Afghanistan Border Areas.
In response to development needs in Pakistan, JICA is supporting the improvement of infrastructure, such as transmission lines and national highway, and also has been contributing to the anti-polio campaign. Regarding the technical cooperation, JICA has been implementing several projects such as "The Project for Skills Development and Market Diversification Garment Industry".
Pakistan, which belongs to the South Asian region and shares borders with India, China, Afghanistan and Iran, is located in the geopolitically important area. The population of the country exceeds 200 million which is the 6th largest in the world, and the youth population below 30 is more than 60% of the country. Considering the potential of Pakistan including its significance in promoting regional stability among neighboring countries, we believe the role of Japan will be significantly important.
In Pakistan, new movements occur as Pakistan Tehreek-e-insaf (PTI) won the victory in the general election held in July, 2018. The number of terrorist attacks in the whole country has been steadily decreasing. We believe that it is imperative to ensure further stability in domestic situation, to realize economic growth and establish a stable and sustainable society.
While keeping a close eye on the situations of Pakistan, JICA, as the implementing agency of ODA under the Government of Japan, will cooperate with the activities of the Government of Pakistan for sustainable development, through improvement of economic and social base by carrying out well-balanced effective activities in Pakistan.
To this end, we would like to proceed with appropriate actions while receiving advices and opinions not only from government officers in Pakistan but also from people who have relationship with Pakistan in various fields as well as have interested.
Sincerely Yours,
Yasuhiro Tojo
Chief Representative, JICA Pakistan
August 2018