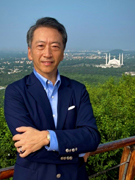 As an individual who has been extensively engaged in matters related to social and economic development of the South Asian Region including Pakistan for over a decade, it is my great honor to be appointed as Chief Representative of JICA Pakistan since March 2019. While supporting the thriving economic development of Pakistan, I will put in my best efforts to lead my team to contribute to the social development of Pakistan with the aims of building a society where people can lead their lives filled with hope. Through our combined efforts to better the society, it is also my sincere wish that the trust between Pakistan and Japan will be further enhanced.
Ever since the commencement of Japan's Official Development Assistance (ODA) to Pakistan in 1954, the Government of Japan and JICA has continuously contributed to the economic and social development of Pakistan for 65 years. Currently, JICA is providing technical and financial assistance to Pakistan in the areas of economic infrastructure development in the transportation and power sector; enhancement of economy; employment and income generation through promotion of industry; trade and investment and agriculture development; reinforcement of social services and empowerment of people through health; water and sanitation; education and vocational training; promotion of people's safety including disaster management and working on the stabilization of Pakistan – Afghanistan Border Areas.
Pakistan is situated in an extremely significant location that shares its borders with India, China, Afghanistan and Iran. The Country is 6th most populace in the world with over 60% of the population under 30 years old. With an eye towards the immense potential of Pakistan, as well as with the aims of promoting regional stability among the neighboring countries, it is crucial to work on constructing a stable society and improving the quality of people's lives, while focusing on a sustainable economic growth. In doing so, we firmly believe that Japan could play a substantial role in assisting Pakistan on its journey.
Despite domestic and international challenges, the incidence of terrorism are on the nosedive in Pakistan. The people of Pakistan have an extremely amiable stance especially towards Japan & its people, and have a full of potential to take more important role in economic and social development of this region. Moreover, the Pakistani government has been working towards building a welfare state with the focus on investing in human capital under the Imran Khan's administration. There are of course number of obstacles that need to overcome for development of the Country, but as the Japanese official cooperation agency, we endeavor to undertake well-balanced and effective projects with innovative ideas for improving the economic and social basis, while keeping an eye on the ever-changing circumstances of the country and supporting the Pakistani government's self-sustaining efforts.
In order to successfully accomplish this endeavor, we believe that seeking an effective and open dialogue with the government officers of Pakistan and of each province, along with the Pakistani stakeholders and people who are pouring their energies into bettering the country in their respective fields, as well as with people who are interested in Pakistan is of utmost importance. Taking the insights and opinions from these dialogues into perspective, we will put in our best efforts to support the development of Pakistan through our innovative and accurate measures.
Shigeki Furuta
Chief Representative, JICA Pakistan
April 2019