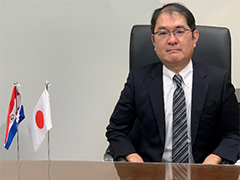 In 1936, the first group of Japanese immigrants arrived in Paraguay. Since then, more than 80 years have passed and about 10,000 Japanese immigrants and their Nikkei descendants live in this country, to whom Paraguayan society attributes the recognition and contribution to the country's development, especially in the agriculture area. In addition to the aforementioned and with the economic cooperation of Japan's Official Development Assistance (ODA), which dates back to the 1970s, Paraguay is one of the friendliest countries among Latin American countries.
Paraguay, being a country whose productive activity is based on agriculture, and occupying the first positions in the ranking of exporting countries of soybeans and beef, has a relatively unstable and vulnerable economy due that the agricultural crops' production is influenced by the weather and fluctuations in international prices. Therefore, it is important to focus on export products of high international competitiveness to ensure stable agricultural productivity. Even so, the gap between the rich and the poor is still large, especially in rural areas, so it is necessary to create employment opportunities and increase income through rural development.
On the other hand, in recent years, the Paraguayan government has actively promoted measures to attract foreign investment through tax incentives, low-cost labor, abundant electricity, among other comparative advantages. In this context, numerous foreign companies, including Japanese ones, in auto parts, barge construction, food processing, among others, have settled in the country, gradually transforming the traditional economic structure based on agriculture. To continue promoting this type of private sector investment, it is necessary and essential to improve the investment climate and business environment. aspects.
With the commitment to continue cooperating in the most effective way for Paraguay's development, which has managed to support a higher economic growth rate in recent years among Latin American countries, this Agency will make the most of the available and applicable cooperation schemes to the country, including Loan schemes, Technical Cooperation, Non-reimbursable Financial Cooperation (Donation), as well as the Volunteers Dispatch, Partnership Program and Articulation Programs with the Private Sector, with a multifaceted and systematic approach to develop operations in Paraguay.
The world is being hit by the relentless coronavirus pandemic and Paraguay is no exception. Therefore, I would like to promote international cooperation with ties of trust.
FUKUI Yasushi
Chief Representative
JICA Paraguay Office