Address
JICA Senegal Office
JICA SENEGAL OFFICE (BUREAU DE LA JICA AU SENEGAL)
3e Etage, Atryum Center, Route de Ouakam, Dakar, B.P.3323
Tel : (221) 33-859-7272
Fax : (221) 33-860-8856
Map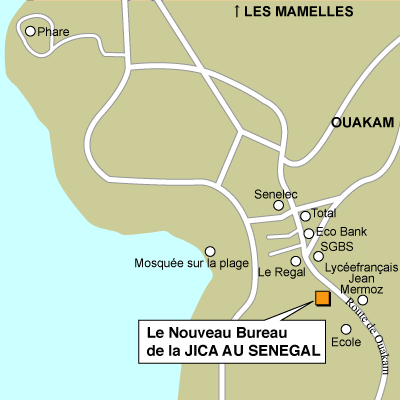 Overview of the Senegal Office
The office of JICA Senegal is located in Dakar, the capital of Senegal, a city on the tip of the Cape Verde Peninsula and the westernmost point of the African continent. A traditional gateway to Africa and serving as the capital of French West Africa in the early twentieth century, Dakar has functioned along with Abidjan as West Africa's center for logistics, transportation and commercial activities since the region's many nations gained independence. Home to approximately two million people, Senegal is considered to be the most politically stable country in West Africa.
In addition to handling Senegal, the JICA Senegal Office is in charge of international assistance for six neighboring countries: Cape Verde, Gambia, Guinea, Guinea-Bissau, Mali and Mauritania. These seven nations encompass a wide range of environments and climates from the semi-arid lands of northern Mali, Mauritania and parts of Senegal, to the countries of Gambia and Guinea with their blessing of plentiful rainfall and dense forests. The economic diversity also ranges from the most impoverished category such as seen in Cape Verde where the gross national income per capita was 3280 dollars in 2015 (according to the World Bank) to semi-developed countries.
This area is also diverse in languages. In addition to French in Guinea, Mali, Mauritania and Senegal, Portuguese in Cape Verde and Guinea-Bissau, and English in Gambia, there is a wide variety of local languages spoken by the many ethnicities in these countries. This array of diversity makes it difficult to encapsulate the concept of West Africa in a single description.
The JICA Senegal Office works closely with the Japanese embassies located in Guinea, Mali, Mauritania and Senegal. In addition to using the different instruments of technical cooperation and ODA loans as well as grant aids in planning of cooperation in these seven nations.
Related Information