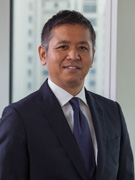 The Sri Lankan economy is growing rapidly, and in the near future its gross national income per capita is expected to reach the level of upper-middle-income countries. However, in order to achieve further economic development, Sri Lanka needs to resolve several issues that are impeding its development.
For example, the lack of economic infrastructure such as transport, water and sewerage, electrical power, etc. is already becoming a bottleneck in industrial development. Although the Government of Japan and JICA have supported the economic infrastructure projects for a long time, there are new issues emerging which need resolution such as traffic jams in Colombo City, which are worsening every year.
Sri Lanka is also threatened by natural disasters including floods and landslides which occur every year resulting in a loss of life and major damage to roads and other basic infrastructure. JICA actively cooperates with Sri Lanka's disaster mitigation projects taking advantage of Japan's experience in similar situations.
Japan's international cooperation with Sri Lanka began with the acceptance of seven trainees from Sri Lanka over 60 years ago. In 1960's, ODA loan and grant assistance was started to support Sri Lanka's economic and social development. Also, since 1981, the activities of Japan Overseas Cooperation Volunteers began, and in October 2015, the 1000th volunteer was sent to Sri Lanka.
I believe that this long-standing international cooperation is the basis of trust in Japan, leading to the present good relationship between the two countries. I look forward to working with my colleagues at JICA, any other partners, the Government and most importantly the people of Sri Lanka to overcome its development challenges and achieve its goals.
TANAKA Fusato
Chief Representative
JICA Sri Lanka Office