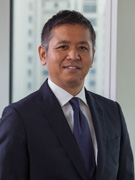 I was appointed as the Chief Representative of Sri Lanka office on April 1, 2021.
Sri Lanka has been quite successful in controlling infections at its initial stage for nearly half a year after the outbreak of the new coronavirus pandemic, but it has had a significant economic impact, with GDP growth at a record low of minus 3.6% in 2020. In particular, the tourism industry, which has driven the economy as one of the driving forces of growth in recent years and has played an important role as a source of foreign currency income, has declined significantly. As in other parts of the world, the country is struggling with the third wave of rapid spread of the infection, and the recovery is still uncertain.
However, thanks to the tireless effort of the Government of Sri Lanka, medical and health workers and others, the infection will eventually subside and come to end. On the other hand, it may take some time and effort to rebuild a damaged economy and society and regain its growth trajectory like before. In addition, in order to enter a middle-income country and achieve stronger, inclusive, and sustainable growth, we must tackle various issues that have been there before the pandemic, such as infrastructure development in such areas as transport, water and sewage, and electric power, improvement of socio-economic conditions in rural areas, preparedness to overcome vulnerability against disaster, and expanding health care etc.
JICA has developed a cooperative and friendly relationship with Sri Lanka for many years. In 1954, Japan joined the Colombo Plan, which was launched in 1950. Japan began providing technical cooperation to Sri Lanka in the 1950s and ODA loans in the 1960s. The cumulative amount of yen loans approved for Sri Lanka has now exceeded 1 trillion yen. In addition, 2021 marks the 40th anniversary of the dispatch of the Japan Overseas Cooperation Volunteers, which started in 1981, and more than 1,100 volunteers have been dispatched so far. 2022 marks the 70th anniversary of the establishment of diplomatic relations between the two countries.
Sri Lanka has overcome several major challenges, including the civil war that lasted for over 25 years until 2009, causing nearly 70,000 casualties, and the 2004 Indian Ocean Tsunami that killed about 35,000 people. Despite these difficulties, JICA has always been close to the Sri Lankan government and the people, and has provided cooperation that catered to wide-ranging needs of the people.
JICA will work with various stakeholders and partners to overcome the pandemic of this new coronavirus and its various negative effects as quickly as possible, and to bring an even brighter future to all who live on this beautiful and shining island of Sri Lanka.
YAMADA Tetsuya, Chief Representative
JICA Sri Lanka Office