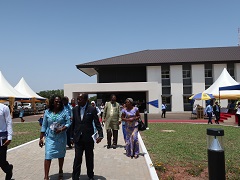 Participants in the opening ceremony held March 26. At back right is Noguchi Advanced Research Laboratories.
A ceremony was held on March 26 at Ghana's Noguchi Memorial Institute for Medical Research (NMIMR) in the University of Legon, Accra to celebrate the opening of Noguchi Advanced Research Laboratories, a new facility built with assistance from Japan. Until now JICA has worked on various infectious disease research projects at NMIMR, which is celebrating its 40th anniversary. With the opening of this new center furnished with the latest equipment and improved laboratory facilities, NMIMR is expected to play an even more vital role as a medical research institute that counters the spread of infectious diseases in sub-Saharan Africa.
Conducting advanced research safely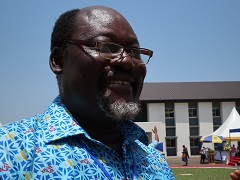 NMIMR Director Abraham Kwabena Annan
"There are concerns that mutating pathogens and climate change may lead to the expansion of pandemic regions in Africa, so countering infectious diseases is an issue of great importance," said Professor Abraham Kwabena Annan, NMIMR Director.

Since its establishment 40 years ago, NMIMR has continually upgraded the facilities and repaired its equipment, but issues such as aging laboratories and a lack of research space have arisen. The new center is equipped with advanced facilities, including a BSL-3 (Biosafety Level-3)* laboratory capable of testing for highly contagious pathogens such as Ebola hemorrhagic fever. The laboratory will enable the advanced research in safe conditions so researchers can quickly identify and contain infectious diseases.

*Biosafety Level: A rating system for facilities that handle microorganisms and pathogens. Levels are ranked from 1 to 4, with the higher numbers capable of handling higher risk pathogens.

Director Annan noted the numerous contributions NMIMR has made to counter infectious diseases. He said, "The opening of Noguchi Advanced Research Laboratories is important not only for Ghana and Africa—it is very significant for the world at large."

Playing an important role as a training base to counter infectious diseases in sub-Saharan Africa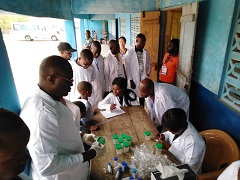 Training held from January to March this year for laboratory technicians in West Africa (Sierra Leone, Liberia, Nigeria, Ghana)
Director Annan added, "To prevent the spread of infectious diseases, cooperation between regions and organizations is essential." NMIMR, which plays a role as a center of excellence for medical research in sub-Saharan Africa, is also actively involved in training personnel involved with preventive healthcare.

From January to March this year, for the first time, NMIMR conducted training for laboratory technicians from West Africa region so they are able to counter the spread of infectious diseases in the region. For the next three years until 2021, there are plans to hold multiple training programs at NMIMR for laboratory technicians from four western African countries (Sierra Leone, Liberia, Nigeria and Ghana). Laboratory technicians engaged in parasitology, bacteriology and virology testing will participate in the sessions.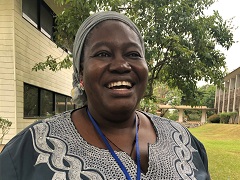 "At the lab where I work it's difficult to conduct accurate tests because there's a lack of equipment and testing reagents," said Elizabeth Odeh.
Elizabeth Odeh (a senior scientist at the Federal Teaching Hospital), who participated in the training from Nigeria, said, "In this program I had the opportunity to do inspections using equipment and reagents I normally cannot use. I became aware of how necessary it is after I return to Nigeria to communicate the necessity of training people and using appropriate equipment to carry out accurate laboratory testing. I also would like to share the lessons I learned from this training through my network there."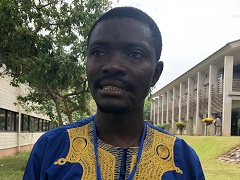 "Accurate testing is an important element that stops the spread of infectious diseases,"said Saidu Sefoi.
Saidu Sefoi (a medical technician at the Sierra Leone-China Friendship Hospital), who participated in the training from Sierra Leone, said enthusiastically, "In Sierra Leone, fostering highly specialized personnel is a major issue. I also learned that the teamwork among laboratory side and clinical side is essential to save the patients. In this training program I could study how to best share testing results and cooperate with others by conducting and recording accurate testing data. When I return I want to share the knowledge I gained and communicate the importance of teamwork through meetings and workshops."
NMIMR's achievements in its first 40 years and its future role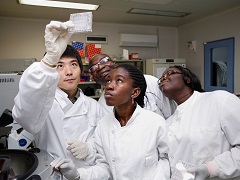 A Japanese expert (left) gives technical instructions for NMIMR's enhanced research capabilities
NMIMR was established in 1979 with support from Japan. The facility was built in honor of Dr. Hideyo Noguchi, a Japanese researcher who came down with yellow fever while researching the disease, which took his life in Ghana. Among the many research and disease control projects JICA has been involved in, Project Coordinator Miyuki Tan of the JICA Ghana Office has been involved in coordinating projects for more than ten years. She said, "While the Noguchi Memorial Institute for Medical Research works with various aid agencies, I feel that it highly appreciates the presence of JICA, which has partnered with the institute since its establishment."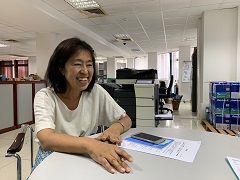 Project Coordinator Miyuki Tan talks about NMIMR's importance
Reflecting on NMIMR and JICA's history together, Tan noted that while Japan used to transmit its technology to NMIMR, currently Japanese universities and NMIMR conduct joint research as equal partners. In recent years, during the Ebola virus outbreak in 2014, over 200 specimens were brought from both inside and outside Ghana. "The Noguchi Memorial Institute for Medical Research was not only a basic medical research institution, it grew into a infectious disease prevention base that led containment efforts in Africa," said Tan.
"With the completion of the new center, I'm hopeful that it will play a role in strengthening preventive capabilities by working together with other regions. It can do this by testing for emerging infectious diseases in neighboring countries and by utilizing its training functions, like the laboratory technician training we started implementing this year," said Tan, looking to NMIMR's future. JICA will continue to support NMIMR both in the "hard sense" with research equipment and in the "soft sense" with personnel training that enables the quick discovery and containment of infectious diseases.