JICA Social / Sustainability Bond
JICA Social / Sustainability Bond Framework
In April 2023, JICA released a new 'JICA Social / Sustainability Bond Framework' based on the International Market Association's (ICMA) Social Bond Principles (SBP), the Green Bond Principles (GBP) and the Sustainability Bond Guidelines (SBG). JICA has obtained a second party opinion from Moody's.
Contribution to the Sustainable Development Goals (SDGs)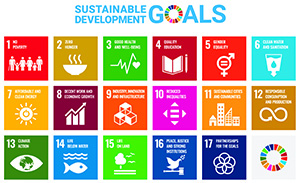 In 2015, the United Nations adopted the 2030 Agenda for Sustainable Development, including the Sustainable Development Goals (SDGs), which is a compass for aligning efforts to realize sustainable development by 2030.
JICA, as the sole agency implementing Official Development Assistance (ODA) of the Government of Japan, has supported projects in developing countries to address challenges to the SDGs. See how JICA is making impacts around the world here.
See also
Operating Principles for Impact Management
In August 2019, JICA signed the Operating Principles for Impact Management introduced by International Finance Corporation (IFC). Impact Investing can be defined as investments made into companies or organizations with the intent to contribute to measurable positive social or environmental impact, alongside financial returns. The Principles provide a framework for investors to ensure that impact considerations are purposefully integrated throughout the investment life cycle. JICA has become the first Japanese signatory to the Principles.
See also