JICA President Shinichi Kitaoka visited the Philippines from April 8 to 11, held talks with government dignitaries and visited the sites of ODA projects in Manila and Davao.
Meeting with President Rodrigo Duterte and Top Officials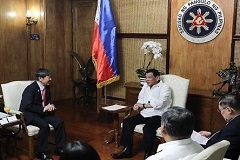 JICA President Shinichi Kitaoka, center left, holds talks with Philippines President Rodrigo Duterte.
Mr. Kitaoka held a meeting with President Duterte for the third time after the meetings held in October 2016 and October 2017. JICA has pledged assistance of approximately 400 billion Japanese yen since the current administration commenced, for railway transportation, disaster management, human development and other sectors. In addition, JICA has been supporting the peace and development in Mindanao since the 2000s, together with the government of Japan.

Mr. Kitaoka and President Duterte exchanged their views on the significance of a Free and Open Indo-Pacific, and shared their values that it is essential to respect good human relationships to maintain the international order.
Meeting with High Officials of Bangsamoro Transition Authority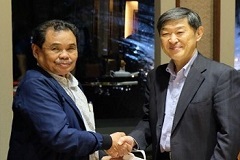 JICA President Shinichi Kitaoka, right, holds talks with Basic, Higher and Technical Education Minister Mohagher Iqbal.
Mr. Kitaoka held a meeting with Basic, Higher and Technical Education Minister Mohagher M. Iqbal of the newly inaugurated Bangsamoro Transition Authority (BTA). Minister Iqbal also has a mandate of the chair of the Moro Islamic Liberation Front (MILF) Peace Implementing Panel.

Mr. Kitaoka committed to JICA's continuous cooperation to the people in the Bangsamoro Region that is expected to deliver a peace dividend to each and every individual.

Minister Iqbal expressed his gratitude to JICA's support and shared his views that transparent administration of BTA, the livelihood of decommissioned MILF soldiers and the professional development of the personnel are the short-term priority areas of BTA.
Visits to Construction Sites of Davao City Bypass and Historic Sites of Japanese in Davao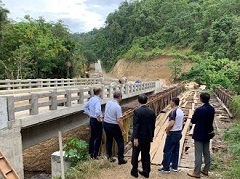 Inspecting an access road to a bypass construction site in Davao
Mr. Kitaoka visited the construction sites of Davao City Bypass that is supported by JICA's loan, and historic sites of the Japanese community who has contributed to socioeconomic development of the region before and after the Second World War.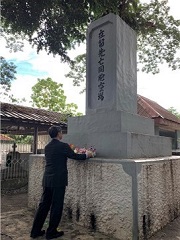 Making an offering of flowers for deceased Japanese and Nikkei people in Davao
Mr. Kitaoka also visited the Mindanao Kokusai Daigaku (Mindanao International College), a tertiary institution of the Philippine Nikkei Jin Kai (society of Japanese descendants) in Davao City.
Site Visit to Flood Management Projects in Metro Manila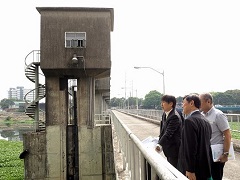 Visiting the site of a flood control project in Manila
Mr. Kitaoka visited the sites of the flood control project and inspected the early warning system of Pasig and Marikina Rivers. Through the site visit, Mr. Kitaoka reaffirmed the importance of creating a resilient society with Japanese experience, in order to sustain the quality growth of the emerging Philippines.
Visits to Research Institute for Tropical Medicine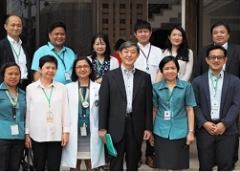 A group photo with personnel of the Research Institute for Tropical Medicine
The Research Institute for Tropical Medicine (RITM) was constructed in the 1980s by Japanese grant aid. Now, JICA is implementing a co-research program regarding human rabies prevention together with Japanese and Philippines research institutes including Oita University and the Department of Health of the Philippines. Mr. Kitaoka visited RITM and expressed his expectations for the improvement of human rabies prevention measures in the Philippines.