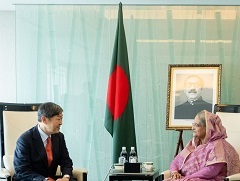 From right, Bangladeshi Prime Minister Hashina and JICA President Kitaoka
JICA President Shinichi Kitaoka met with Prime Minister H.E. Sheikh Hasina of the People's Republic of Bangladesh on May 30 in Tokyo.

It was the second discussion between Ms. Hasina and Dr. Kitaoka, since May 2017.

Ms. Hasina began the talks by expressing appreciations for JICA's many years of cooperation toward Bangladesh since its independence. She expressed her hopes that the two countries could deepen their relationship for the future growth of the country. Based on the Japanese government's Free and Open Indo-Pacific, Dr. Kitaoka and Ms. Hasina affirmed they shared the common values of democracy and peace in the countries of Asia and that they would further develop their trust-based relationship.

For the further development of Bangladesh, JICA continues its initiatives to accelerate economic growth in the country allowing more citizens to benefit from it. We also provide cooperation to overcome social vulnerability.