"In Kenya, Japan is one of the leading donors supporting its geothermal power development. However, the distribution network is still not adequate, and in some regions, they say it takes a full day to charge just 10% of a smartphone."

Explaining this is Eiji Wakamatsu, a member of the JICA Industrial Development and Public Policy Department. Access to energy is one of the key themes for Africa's development. The lack of affordable and reliable electricity seriously hinders industrial development and improvements in health care and education. The challenge is to ensure that everyone has access to stable and affordable electricity while, at the same time, reducing carbon dioxide emissions.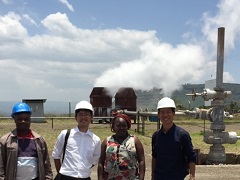 Wakamatsu (far right) observing a technical cooperation project in the Menengai Geothermal field.
In the 10th edition of the series "TOWARD TICAD 7: 'Africa & Me'," we asked staff member Wakamatsu, who oversees electrical power support in East Africa, in such projects as geothermal development in Kenya, about the power distribution grid extension project and power development of the country.
Transformational impact of the last one mile
Since 2014, the government of Kenya has been implementing a large-scale electrification policy with the understanding that a low electrification rate is a major factor hindering economic and social development. As a result, the national electrification rate, which in 2014 was 32%, has increased to 75% in 2018. The Kenyan government aims to supply electricity to all households in the country by 2022.

The Last Mile Connectivity Project is one of the flagship projects currently being led by the Kenyan government. The project facilitates electrification through such measures as extending distribution lines, setting electricity rates according to household income levels, and allowing service payments in installments. The World Bank and the African Development Bank, as well as the Japanese government through JICA, have supported this initiative.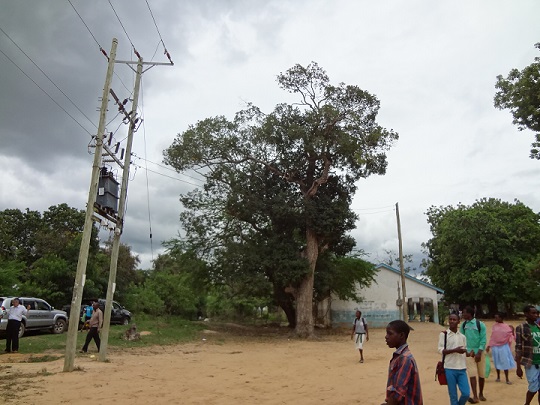 The primary schools and its surroundings in Kilifi County in southeastern Kenya do not have electricity but are planned to be provided with electricity through the Last Mile Connectivity Project.
"The primary reason why electricity was not being delivered to homes located near transmission lines was because there was no distribution network in place that could deliver electricity to the vicinity of the homes. In addition, even if an electricity pole was located close to a home, the initial fee (connection fee) to extend electric wires into each household was extremely expensive, about 35,000 yen, and a lump sum payment was required. Therefore, only the very few households with income could afford a contract," Wakamatsu explains.

In order for JICA to contribute to the project through its grant aid program, Wakamatsu as a representative of JICA held a series of discussions with Kenya Power and Lighting Company (KPLC), the agency responsible for implementing the project. He also held meetings with Kenya's Ministry of Energy on issues surrounding electrification and exchanged opinions on measures for the future.

Currently, as for the connection charges that were the bottleneck of the connection problem, exemptions according to income and the installment of a 24 months payment mechanism have been introduced to promote electrification.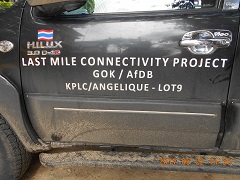 Vehicles marked with "Last Mile Connectivity Project." KPLC uses them when they visit areas without electricity.
Wakamatsu said that he made various discoveries at the sites as they visited the areas without electricity, substations, and electrification construction sites.

"I was impressed to see that the KPLC engineers took very good care of their distribution transformers by repairing damaged or broken ones in their workshops and reusing them. Also, I was able to actually observe towns and villages where electricity is not yet available, so I could clearly imagine how power could transform these people's lives. It would be so nice to see them enjoying the benefits of electricity."

The effect of geothermal power generation and trust in Japan
Geothermal power generation has many advantages such as low CO2 emissions and stable operation regardless of weather conditions. On the other hand, there are aspects of high risks in the upstream exploration phase. Since 1910s, Japan has been developing this energy domestically. Therefore, it has a vast accumulation of know-how, and it has one of the best technologies in the world. Japanese-made components in this field are trusted not only in developing countries but also in developed countries.

According to Wakamatsu, of the approximately 680 megawatts of geothermal power generation in Kenya as a whole, about one-fifth is due to Japan's support. In addition, 261 megawatts are under construction with the support of Japan.

"I was deeply thrilled when I first saw steam rising from the geothermal power plants in the Olkaria geothermal complex. Many of them were built with the support of Japan, and this made me feel proud," Wakamatsu remarked.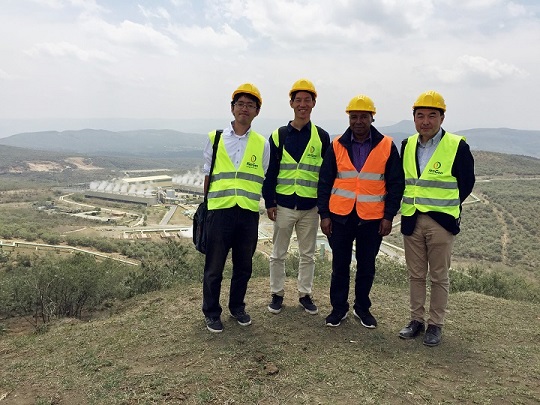 Wakamatsu (second from left), inspecting Olkaria Geothermal Power Station. The scale of the Olkaria Geothermal Power Station alone exceeds the entire installed capacity of geothermal power generation in Japan.
Another memorable point for Wakamatsu was the trust Kenya has in Japan. "Kenya's expectation for Japan's support is high, and I was impressed by the fact that we were able to earn their full trust to update the geothermal energy master plan and by being requested to help them improve the operation and maintenance of their geothermal power station." Through working with such Kenyans, he said he was able to grow as a professional.


Shaping the potential of Africa
Wakamatsu has always valued "passion and a spirit of challenge" in his work and life. Reading the story of elephant poaching in Africa in a children's science magazine as a fourth-grade elementary school boy set him on the path of international cooperation. For this reason, Africa has a special place in his heart.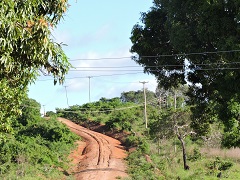 An area without energy. Distribution lines are delivered to the immediate vicinity and are scheduled to be supplied with electricity through the JICA project.
"Africa is very young and has tremendous potential. It's a place where you can see results if you take action, so I want to take on many challenges and bring possibilities to reality."

Going forward, Wakamatsu will continue to work on the development of geothermal power generation in Africa, including in Kenya, as well as on technical cooperation projects such as improving the efficiency of the Olkaria Geothermal Power Station, utilizing Internet of Things (IoT) technology.

Profile
Eiji Wakamatsu
He joined JICA in 2002. After working in the Human Development Department and in the Afghanistan office, he was seconded to the World Bank and then moved on to the Africa Department. In 2017, he started working at Energy and Mining Group in the Industrial Development and Public Policy Department. He is mainly responsible for the global geothermal program as well as planning and managing electricity projects in Africa. He was born in Hyogo.