Less than one year remains until the "Tokyo 2020 Paralympic Games" that will open on Aug. 25 next year. In the Southern African country of Zambia, one woman continues to train with the aim to win medals at the tournament. This is Monica Munga (18), who will participate in a 400-meter dash. She has albinism, with visual disorders which is often associated with this condition. Next to her, while she trains to run her best time in Tokyo, is a Japan Overseas Cooperation Volunteers (JOCV) member.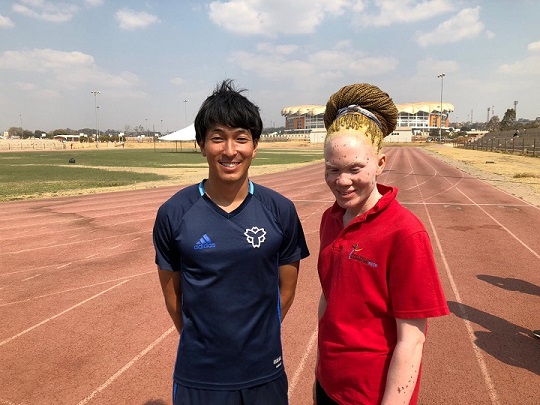 JOCV member Masataka Nozaki (left) and smiling Monica Munga
New record times with Japanese training methods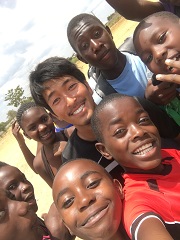 With junior high school students to whom he teaches physical education as part of a JOCV activity. He established an after-school soccer club and serves as an advisor to the club. Nozaki is in the center
"By integrating Nozaki-san's training, my running technique has improved, and my race times at competitions have been decreased. I am honored to have a trainer who knows about Japanese training methods."

Monica's so-called "Nozaki-san" is a member of the JOCV (from Chiba Prefecture), Masataka Nozaki* who teaches her training methods. He is currently 24 years old and, after graduating from university, moved to Zambia in 2017 as a JOCV member in the field of physical education.

* Nozaki returned to Japan at the end of September 2019 after completing a two-year stint as a JOCV member.

Nozaki met Monica at a local coach workshop in Zambia in March 2018. It was carried out as part of the "Strategic Bilateral Sports International Contribution Project" ran by the Japan Sports Agency, and it was implemented to promote the growth of athletes by providing coaches from developing countries an opportunity to learn Japanese training methods, and to encourage more countries and regions to participate in the Tokyo Paralympic Games than ever. As this workshop was conducted by Nozaki's alma mater, Nippon Sport Science University, Nozaki participated, and also acted as an interpreter.

"This is the fourth time for Zambia to participate in the Paralympic Games, and there are only six athletes who took part so far. In Zambia, soccer is very popular, but athletics are not particularly thriving and physical education classes at schools began just a few years ago. Efficient and effective training methods are not yet established either. When I taught physical training at a workshop using the methods I learned during my days in a soccer club, Monica and the coaches were very happy and I was delighted to see that. Since that workshop, I have been engaged in training every month."

Nozaki learned how to do push-ups using his own weight without using equipment and core training from a Japanese coach at the workshop, and introduced them to Monica and other athletes. These training methods were new to the local people.

"I want to cooperate if I can be of help"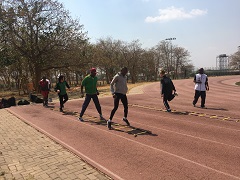 Athletes are working hard to set new time records
After becoming involved with coaching Monica, Nozaki acquired effective track and field training methods from a Japanese coach he knew, and continues to learn more every day. Local coaches train the athletes, so "I am only providing assistance. I have a Japanese junior and senior high school physical education teacher license, but I don't have any coaching experience," says Nozaki, and explains the reason why he continues to support them, as follows:

"Originally, I joined the JOCV because I wanted to help others. So, this fits me very well. The motivation of the players and coaches is high, and Monica is training especially hard. If I can help, I will not hesitate and I want to cooperate."

I want to encourage those who face similar disabilities
It was at the age of 12 that Monica encountered track and field. This was the beginning of her athletic life as she was chosen as a disabled athlete in a track and field competition held across the country. Among the three competition classes that were categorized by the severity of disability, Monica was classified in the middle "T12" class. She is unable to clearly see the lanes of the track and runs with her head facing diagonally downwards. In everyday life, she is only able to read the screen of her smartphone when she puts it directly in front of her eyes. Her life faces many difficulties, but being able to continue track and field has become so important for her heart.

"When I met track and field, it gave me hope, freed me from the days I had been discriminated, and gave me confidence. Sports not only leads you to a higher level, but also helps you find what you need. By playing an active part, I would like to encourage more albino people to have confidence."

Her goal is to win a medal at the Tokyo 2020 Paralympic Games. Japan, the home country of Nozaki who she is training with, is holding the games, and that means something special.

For the Games coming up in one year's time, Nozaki reflects on Monica with hope saying, "There are many times when I get encouraged by athletes with disabilities like Monica making efforts and using their ingenuity to push their limits. At the Paralympic Games, I want many people to feel the same way as I do. In addition, I would be very happy if I could do my best to support them."

Nozaki (left) training the Zambian athletes