Overview
For two days, on November 13 and 14, 2019, JICA and WASAC (Water & Sanitation corporation, Rwanda) co-sponsored forum was held in Rwanda, the first time in Africa.

Group photo of about 100 people from eight countries. Such a meeting was the first time for JICA.
Background and Purpose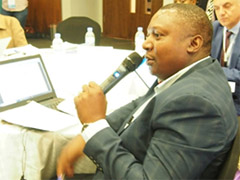 Participants asked each other questions to learn more about the activities and outcomes of other water utilities that are not normally heard.
The purpose of this forum was to promote the networking of water utilities in African countries and to share each other's knowledge, experience, and lessons learned in the project, so as to contribute to future water business management and service improvement.
Thirty six executives participated including CEOs and administrators from 14 entities in eight countries, including Rwanda, which served as the host country jointly with JICA, the English-speaking countries of Kenya, Malawi, Nigeria, South Africa, Sudan, Tanzania, and Zambia, where JICA is implementing projects or has implementing experience. Many local media and related companies also attended, and together with about 100 participants, they exchanged views on water issues in Africa.

Contents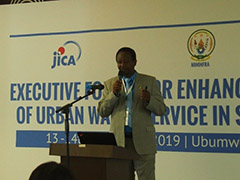 Presentation by Mr. Methode, Director of Urban Water and Sewerage Services of WASAC in Rwanda, the host country.
On the first day, JICA shared examples of efforts and experience of Asian water utilities to improve the sustainability of water supply business management from three perspectives: "Tariff setting", "Efficiency", and "Finance". A presentation was given and the results of business activities so far accomplished were introduced.
The mission of water utilities is to deliver safe, affordable and easily accessible water to customers. But the environment and the challenges vary from country to region. In addition, there is not only one successful approach to solving the same problems. For example, some water utilities exert efforts to reduce water leakage by replacing water pipes in response to the problem of water generated at water treatment plants not reaching customers properly while other water utilities promote water conservation to local residents and struggle to reduce illegal pipe connections. Thus, the presentations varied widely. The participants showed their interest on each other's business activities, with passion to learn. At the reception after the presentations, the participants were able to know each other in a friendly atmosphere.
In the morning of the second day, the participants were divided into five groups. Group discussions were held according to the theme assigned to each group, such as finance, capacity development, and so on. Each theme had "Key Questions", which were the core of their discussion. At the beginning, group participants were modest in making comments, but as time went on, the discussions became active. By the time the discussions were over, group members became friendly to each other and exchanged contact information to create an SNS group.
In the afternoon, a visit was made to the construction site of a water treatment plant in Rwanda, and the forum ended.

(Left)"Non-Revenue Water Reduction Measures" Group discusses opinions on asset management and water management. ,(Right)"Capacity Development" Group listens to Nigeria's present situation on the outflow of human resources
Participants had the following comments: "I am really happy to exchange knowledge and useful experiences with various water utilities;" "It was a great stimulus. I heard ideas from other participants and got tips for improving my business;" "I want to hold it in my country next time;" and as gathered by the JICA experts who participated together with the water utility executives in each country, some participants spoke positively about the improvement of water supply projects in ther countries, saying "As you always say, we have to work harder and improve as in other countries. "

(Left)A big "water supply family" that goes beyond the boundaries of the country and water utilities. ,(Right)Participants from Zambia and South Africa became friendly at a social gathering. At the center is Expert Maruyama who works in South Africa
Future Initiatives
The forum achieved two objectives; namely, "Networking of water utilities" and "Sharing knowledge, experience, and lessons learned in the project." However, the real purpose is still to be achieved, which is to contribute to improving the lives of local residents by putting what they acquired into practice.
The forum was also the starting point for new connections between African water utilities. With this as a starting point, JICA will continue to contribute to the ongoing challenges of water utilities, and also continue to support the "African Water Supply Family".