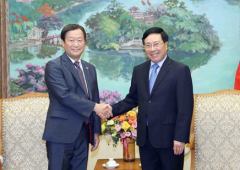 a scene from the meeting
On August 23, JICA Executive Senior Vice President YAMADA Junichi, during his visit to the country, met with First Deputy Prime Minister of the Socialist Republic of Vietnam Pham Binh Minh.

At the start of the meeting, their first reunion since May 2022—the two parties exchanged warm greetings, and Mr. Minh expressed his gratitude for Japanese ODA for the social and economic development of Vietnam.

In response, Mr. Yamada proposed Japan's potential contributions, including development of Vietnam's infrastructure and reinforcement of its financial foundation, which will be even more important for country's sustainable growth. He also expressed his expectations for strengthening bilateral relations through these cooperation. Both parties also confirmed that they will work closely to further promote ongoing projects.

Mr. Minh stated his appreciation for JICA's proposal, saying that Japanese ODA is essential to the development of Vietnam and that he intends to consider formulation of specific ODA projects within the government. Also, Mr. Minh expressed his hope to promote Vietnam-Japan cooperation in various areas, including ODA, and to further deepen relationship between Vietnam and JICA.