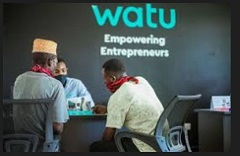 Investee Company of Lendable MSME Fintech Credit Fund: Watu which is offering asset financing of motorbikes to the unbanked in Africa through the credit analysis based on the Fintech technologies.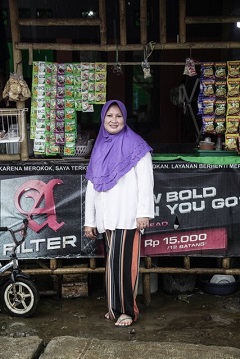 End-user of Lendable MSME Fintech Credit Fund (woman who accessed finance and runs a store using the services of Indonesian fintech start-up Amartha, a fund investee)
On August 18, the Japan International Cooperation Agency (JICA) formed a 10 million US dollars investment agreement with Lendable MSME Fintech Credit Fund, a private debt fund by U.S.-based Lendable Inc. Through this fund, JICA's investment will be used to finance early-stage fintech startups that are working to improve financial access in developing regions in Africa and Asia. This project will contribute to "businesses that solve social issues through innovation via digital transformation"—an objective that was addressed at the Tokyo International Conference on African Development (TICAD) ministerial meeting held in March of this year. The project will be signed ahead of TICAD 8, which is to be held in Tunisia on August 27 and 28.

Lendable provides fintech startups with financing by utilizing IT and data science. It is a pioneer in managing and advising funds for early-stage fintech companies in developing regions. Investors participating in this fund include the U.S. International Development Finance Corporation (DFC) and the Dutch entrepreneurial development bank (FMO) along with private investors. JICA is the first investor from Asia.

Around the world, approximately 1.4 billion people are unable to access formal financial services (World Bank, June 2022). In many African countries, the level of ownership of bank accounts and mobile accounts is below 50%. In Asia, the prevalence of bank accounts among people 15 years and older is around 90% in Singapore, Thailand, and Malaysia, while in Indonesia and the Philippines it is still around 50%, in Bangladesh it is 16%, and in Pakistan it is just 4%, implying financial access remains an important development agenda. Digital financial services will play a critical role to provide financial access to low-income people and medium-sized and small businesses in those countries. These services employ fintech, which combines finance and technology, such as mobile money and online banking. Among such fintech companies, those in their early stages have particular difficulties in fundraising because of its relatively short operation history and difficulty to assess creditworthiness. This results in a bottleneck for creating and expanding innovative services.

Through the investment in Lendable MSME Fintech Credit Fund, this project aims to improve financial access for medium-sized and small enterprises and low-income people by providing financing to early-stage fintech companies in Africa and Asia. The project will contribute to SDGs Goal 1 (No poverty), 8 (Decent work and economic growth), and 9 (Industry, innovation, and infrastructure). This fund is also run with a policy of engaging in impact investments that incorporate a gender perspective. As such, the project is compliant with the "2X Challenge: Financing for Women" (*) initiative.

Going forward, by utilizing the knowledge and networks gained through its collaboration with Lendable, JICA will continue to support companies and funds that are working to solve social issues in developing countries.

(*) 2X Challenge: Financing for Women: An initiative adopted by the G7 development finance institutions (including JICA) on the occasion of the G7 Leaders' Summit in June 2018, aimed to mobilize 3 billion US dollars by 2020 for projects that contributed to women's economic empowerment. In 2021, the goal of mobilizing 15 billion US dollars over the two years from 2021 to 2022 was set to further expand this initiative. "2X" refers to the goal of doubling not only the amount of investment in women, but also the effectiveness of said investment.