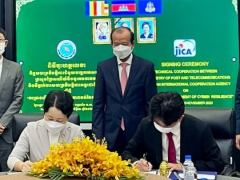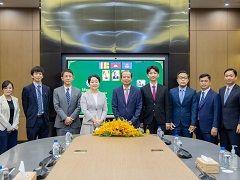 Signing Ceremony
On November 29, the Japan International Cooperation Agency (JICA) signed a Record of Discussions with the Government of the Kingdom of Cambodia in Phnom Phen for the Project for Improvement of Cyber Resilience, a technical cooperation project.

In Cambodia, CamCERT, a National CSIRT*, is affiliated with the Department of ICT Security of the Ministry of Post and Telecommunications. The project aims to support the Department of ICT Security in the improvement of its cybersecurity capacity, and to strengthen the cyber security resilience of the digital society of Cambodia in the future. The project will contribute to the achievement of SDGs (Sustainable Development Goals) Goals 9 (Industry, Innovation and Infrastructure) and 17 (Partnerships for the Goals).

*Computer Security Incident Response Team, which refers to an organization that implements appropriate responses in the event of Information security issues and incidents

Details for the project are provided below.

[Basic project information]

| | |
| --- | --- |
| Country | Kingdom of Cambodia |
| Project title | Project for Improvement of Cyber Resilience |
| Planned implementation period | 42 months |
| Executing agency | Department of ICT Security of the Ministry of Post and Telecommunications |
| Target region | Phnom Phen |
| Specific project details (provisional) | In order to improve the cybersecurity capabilities of Cambodia as a whole, the project will strengthen the capacity of the Department of ICT Security, which plays a central role in the field of cybersecurity, cooperate with other ministries and agencies, conduct awareness-raising activities for the general public, and identify the cybersecurity laws that are necessary for Cambodia. |