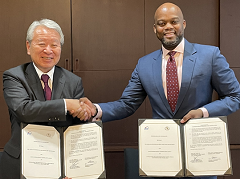 Signing Ceremony
On December 5, the Japan International Cooperation Agency (JICA) signed a Memorandum of Cooperation (MoC) with the African Continental Free Trade Area (AfCFTA) Secretariat. The signing took place at JICA Headquarters in Tokyo between JICA President Tanaka Akihiko and AfCFTA Secretariat Secretary General Wamkele Mene.

The AfCFTA was established as an effort to eliminate tariffs between African countries with the aim of creating a single continental market. The AfCFTA agreement has been signed by all African Union (AU) member states except Eritrea and has been operational since 2021.

The AfCFTA is the largest free trade area in the world with a population of about 1.3 billion people. It is expected to revitalize intra-African trade and, as a result, contribute to the sustainable economic and social development of the continent through the creation of employment opportunities and the reduction of poverty. The AfCFTA is positioned as one of the flagship projects of the AU, which aims at the regional integration of Africa, and the AfCFTA Secretariat was established in 2020 to promote and coordinate these efforts.

Under the MoC, it was agreed that the two organizations would strengthen their cooperation and promote concrete activities in areas such as trade facilitation, corridor development, and the establishment of regional industrial value chains, with the aim of improving the trade environment in Africa.

At the signing ceremony, President Tanaka stated that JICA places a strong emphasis on the promotion of cooperation in line with African ownership and understands the position of the AfCFTA as AU's top priority, and that JICA will provide maximum support for the promotion of the AfCFTA.

In response, Secretary General Mene expressed the AfCFTA Secretariat's expectations for future cooperation with JICA and commented that they would like to achieve further results in the areas JICA has been working on so far, such as trade facilitation and corridor development.

Going forward, JICA will strengthen its cooperation with the AfCFTA Secretariat and expand cooperation in the areas of the improvement of the trade environment and the development of industries that underpin free trade.