Date:
30.05.2014 10:00-12:00
Venue:
Western Highlands Provincial office of the Department of Works
Participants:
DoW
Andrew Buna/ First Assistant Secretary of PTD
Jeffrey Mandau / Civil Engineer of PTD
Mathew Windi / Provincial Works Manager
Alio Karl / Provincial Plant Manager
and other 17 participants

JICA Expert team
Hisashi Muto, Mikio Orikasa, Yukio Kohsaka, Atsuo Akema, Hiroshi Ueda, Yasuo Nakada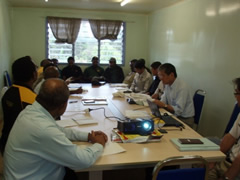 Select Kuta Road as the first priority for the pilot site in 2014 in Western Highlands province.
Kuta Road has big landslide in the middle of the road and DoW contracted with a private contractor for the restoration work of landslide and will start in June. In case, the restoration work of landslide does not complete until the end of September, select Balg to Baisu Avi Road as the pilot site, the decision will be made at the end of August.
Before starting the pilot projects, conduct workshops for communities around the project sites in order to carry out the project smoothly.
Explanation about the training for civil section and conducted the baseline survey.
DoW will provide office space during the pilot project and trainings.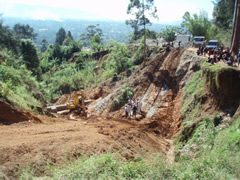 Subsequent information:
The site inspection of Kuta Road was made on 17th June.
The restoration works have already started.