As a countermeasure against the coronavirus (COVID 19) in Kenya, and in response to the urgent request of Kenya's Ministry of Water & Sanitation and Irrigation, JICA had decided to provide water treatment chemicals (equivalent to 45,000,000 Japanese yen in total) to the nine water service providers (WSPs) under the "Project for Strengthening Capacity in Non Revenue Water Reduction in the Republic of Kenya." This emergency support involved the procurement of chemicals for the nine WSPs (Embu, Meru, Mavoko, Kilifi Mariakani, Nakuru, Ruiru Juja, Eldoret, Nyahururu and Kisumu) for a period of three months to lessen the plight of approximately 2.2 million people served by water supplied from the nine WSPs. JICA handed over the first batch of chemicals to the Ministry on July 9, 2020.
In the flag-off ceremony at the Ministry of Water & Sanitation and Irrigation, the Principal Secretary of the Ministry, Mr. Joseph Irungu, expressed his gratitude to JICA for its efforts to help mitigate the impacts of COVID-19 with the continued provision of safe water to Kenyans. The Principal Secretary noted that the Government of Japan, through JICA, is a major supporter of the development objectives of Kenya, and it always responds to emergencies in the country by contributing financial assistance to government programs aimed at mitigating negative impacts during such periods. As he said, "COVID-19 pandemic is an emergency situation that has stretched the world's resources to the limit and Kenya has not been spared."
The Principal Secretary expressed his confidence that through the international community, the Government of Kenya will continue to offer uninterrupted water supply to consumers, including free water to informal settlements and vulnerable groups while avoiding disconnection of water services due to non-payment of water bills. On behalf of the Ministry, the Secretary commended JICA and thanked the People and Government of Japan for the fast pace that the donation has taken to reach the WSPs.
In response to the COVID-19 pandemic, JICA had developed a brochure, "Possible Countermeasures by Water Utilities against COVID-19,"(*) based on the experiences of Japanese water utilities, summarizing recommended actions ranging from awareness raising on water and sanitation of citizens for the protection of water utility staff from infection, copies of which were provided to the Ministry for reference.
Water and sanitation service provision is one of the key preventive measures underpinning human rights against the spread of COVID-19 and other infectious diseases. Through the on going technical cooperation, the Project for Strengthening Capacity in Non-Revenue Water Reduction in the Republic of Kenya, JICA will continue to support the Government of Kenya to ensure continuous access to clean water supply services.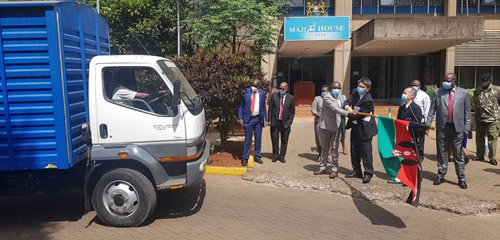 Flagg off of a truck loaded with chemicals at the Ministry of Water & Sanitation and Irrigation, Kenya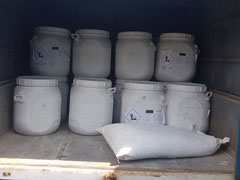 Chemicals delivered to WSPs (Chlorine, Coagulant) in Kenya
Coagulant loaded on trucks, with the Principal Secretary for the Ministry of Water & Sanitation and Irrigation, related persons, and Mr. KOMORI, Chief Representative of the JICA Kenya Office