The Term 2 of F-REDD started in February 2018.
This term will be implemented until October 2020 as the second half of the 5 Year Project (Nov. 2015 - Oct. 2020). The Project has reached an important phase to review the progresses and achievements made in Term 1, expand the support contents in Term 2, and wrap-up the entire achievements of the 5 Year Project. The 4th Joint Coordinating Committee (JCC) meeting was held on 27th February — chaired by Mr. Sousath SAYAKOUMMANE, Director General of Department of Forestry, and co-chaired by Mr. Shunsuke SAKUDO, Senior Representative of JICA Laos Office — with the purpose to foster a common understanding on the project activities for the Term 2.
Additional activities, such as support of the revision of Forestry Law and the preparation of REDD+ readiness in Oudomxay Province, were agreed. Support of the development of international REDD+ mechanisms were committed, including the technical assessment process and the modified submission of the national FREL[1] submitted to UNFCCC in January this year and the submission of the ERPD to the Carbon Fund under the Forest Carbon Partnership Facility (FCPF)[2]. Moreover, collaboration with other donors to access the Green Climate Fund (GCF) is under consideration.
The Lao forestry sector has reached an important phase because the preparation of the next Forest Strategy for post-2021 shall be started soon, the National REDD+ Strategy will move into the implementation phase after its approval, and the government needs to continue the efforts to fight against illegal logging. F-REDD with the Lao forestry sector will continue to provide support to overcome these important challenges.
Mr. Sayakoumane (left) and Mr. Sakudo (right)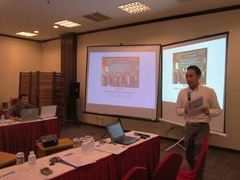 F-REDD expert presentation