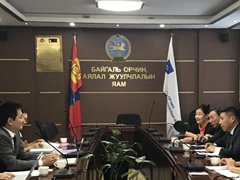 The JICA Project officially started in October 2017. Updates on the Project will be posted on this website. The Project background/objectives and the contents of the first expert mission to Mongolia which took place in November will be the topic for this issue.
Project background/objectives
Climate change is one of the major environmental issues of the world. Climate change is linked to extreme weather events and the accompanied effects on ecosystems all over the globe.
United Nations Framework Convention on Climate Change is the international agreement that was adopted under the United Nations to combat climate change. Under this agreement, all developing countries, including Mongolia, must submit a report containing climate change information to the UN every two years. This report is called the Biennial Update Report (BUR).
The most difficult part of the BUR is the greenhouse gas (GHG) inventory. The GHG inventory is an inventory that details how much of the climate change causing GHG gases are being emitted by which sources within the country. To develop this inventory, one needs scientific knowledge and a collection of background data for estimating emissions, with the support of relevant agencies in the country.
The aim of this JICA project is to build the capacity of staff members in charge of the BUR preparation in the Environment and Climate Fund (ECF) in Mongolia to establish the necessary arrangements so that it can improve GHG inventories on a regular basis.
First mission to Mongolia in November 2017
The Project members travelled to Mongolia from November 19 to November 29 2017 for their first mission under the Project. During the mission, the Project members discussed the Work Plan of the Project with members from ECF and reached an agreement. The members also visited relevant ministries and agencies, and explained the project in order to build relationships for cooperation. Members agreed to hold the Joint Coordination Committee and the kickoff workshop of the Project in January 2018.